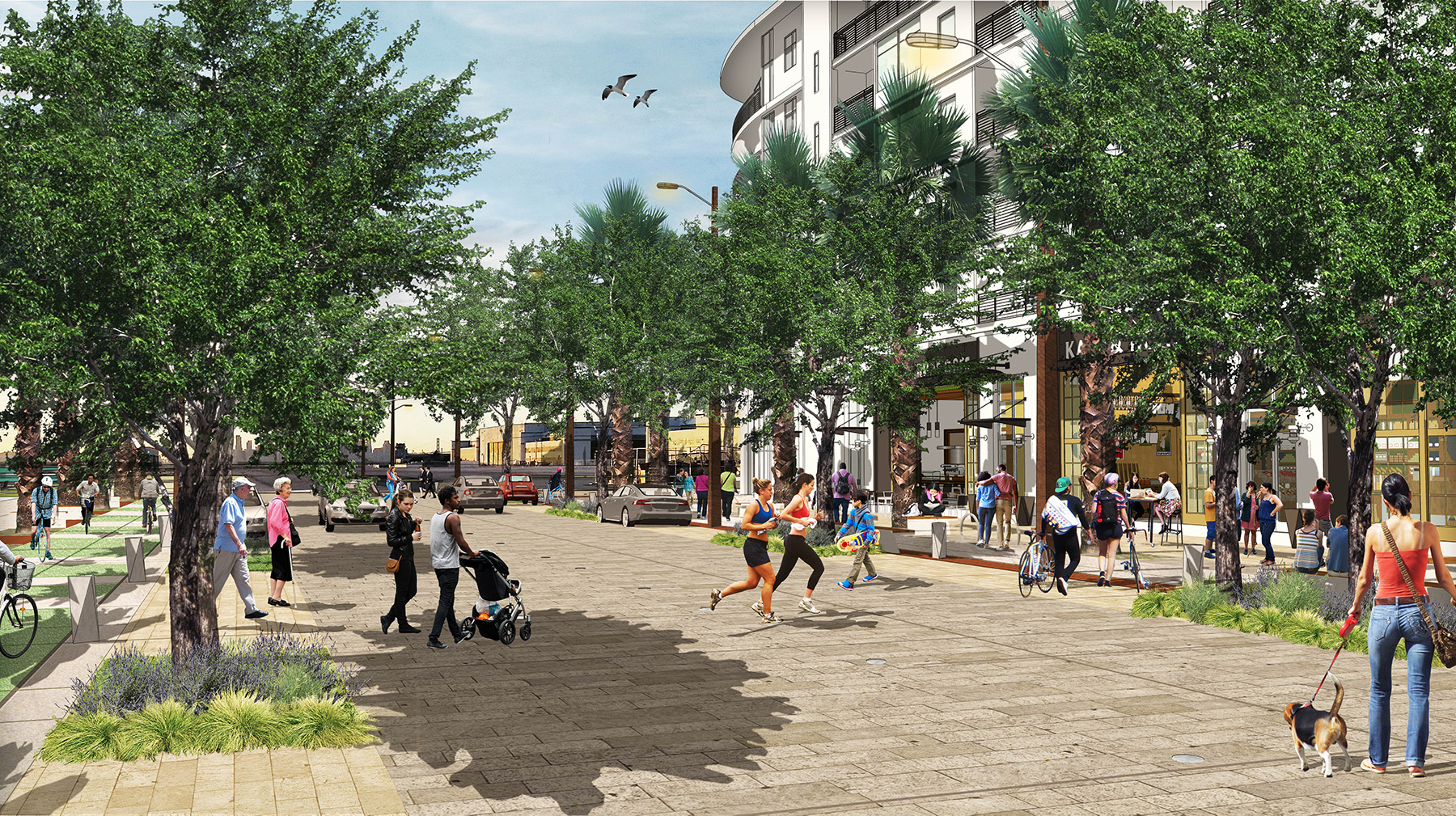 ALAMEDA, Calif. — Alameda Point Partners (APP) is inviting artists to submit qualifications to create public artwork to be incorporated at two locations within Alameda Point's Site A development project in Alameda, California. Site A is a $1 billion mixed-use, transit-oriented waterfront development on the site of the former Naval Air Station Alameda, which closed over 20 years ago. Alameda Point Partners (APP) is a joint venture between Managing Partner Trammell Crow Residential (TCR), a division of Dallas-based Crow Holdings, Los Angeles-based developer Cypress Equity Investments (CEI) and San Francisco Bay Area-based commercial developer srmERNST Development Partners.
The City of Alameda is a 23-square mile island in the San Francisco Bay located between San Francisco and Oakland. Alameda has a population of nearly 80,000 and an enthusiastic arts and culture community. Alameda Point is located at the most westerly tip of the city, surrounded on three sides by water, and boasts stunning views of the San Francisco skyline and an impressive stock of historic military structures from the 1930s and early 1940s. Since the Naval Air Station was decommissioned in 1997, Alameda Point has experienced pockets of organic success as a center for emerging technologies and craft manufacturing and has become a popular location for regional tourists. Despite these successes, the area had remained largely underutilized.
In November 2014, APP was selected by the City for the planning and development of Site A, the 68-acre first phase of the ambitious redevelopment of the former naval base. In 2015, the City of Alameda approved a comprehensive plan for the redevelopment of Site A, which embodies the City's vision of creating a vibrant, mixed-use community with urban neighborhood centers, open space, waterfront access, quality public transportation and a new ferry terminal.
In March 2018, APP broke ground on the multiphase project, which will include approximately 15 acres of public parks and waterfront plaza, construction of a new ferry terminal at Seaplane Lagoon, up to 600,000 sq. ft. of commercial space targeting makers and new technologies, up to 100,000 sq. ft. of retail, 800 multifamily residential units, a 150+ room full-service hotel, and two public art installations. The development will include the adaptive reuse of many historic Navy buildings complemented by thoughtfully designed new construction. The full Site A Development Plan, which includes renderings, preliminary vision for artwork and additional details on public art locations can be accessed here.
"APP is inviting artists to create pieces that will highlight the site's unique attributes, provide a cultural benefit to the community and create a unique sense of place at Alameda Point," said Stephanie Hill, Vice President of Development of TCR's Northern California division and a member of APP. "We are excited to work with the selected artists and encourage both local and regional artists to submit their qualifications."
Two locations for artwork have been approved by the City of Alameda. One public art concept will be installed at the "gateway" to the former Naval Air Station and the new Alameda Point community. The median or western corner of the intersection of Main Street and West Atlantic Avenue has been identified as a preferred location for the art installation. A second public art piece will be located in the Waterfront Park, a 6.7-acre area fronting Seaplane Lagoon with views of the San Francisco skyline. An exact location for the artwork has not been determined.
Selected artwork must be permanent art (50+ year life); durable and able to withstand elements (high wind, saltwater, direct sun, rain and seismic activity); safe and not likely to cause injury; and require minimal maintenance and programming. Acceptable artworks include, but are not limited to sculpture, mural, mixed media, mosaic, crafts and/or restored artifacts.
The deadline for the Request for Qualifications (RFQ) submissions is September 18, 2019. Submissions will be reviewed by an evaluation panel selected by APP. The finalists will be contacted by October 11, 2019, and asked to provide a proposal for one of the two locations. APP will work with selected artists to refine proposals and budgets. Selections will be announced by October 25, 2019. The installation of the artwork is slated for the second quarter of 2020.
Selected artwork will be subject to the application and approval process detailed in Section 30.98.6 from the City of Alameda's Public Art Ordinance, which includes review and approval by the City of Alameda Public Art Commission. The developer (APP) will assist selected artists/organizations with this process.
Submission requirements include contact information, statement of interest, resume/curriculum vitae, documentation of past projects, proposed budget and three references.
All questions related to this RFQ must be emailed to [email protected] by 5:00 p.m. on Friday, August 9, 2019. Responses to all questions will be distributed via email by August 16. Please send an email to the same address to sign up to receive notifications including updates and answers to inquiries.
How to Apply
Please deliver submissions electronically on Café (callforentry.org) using the project's unique URL by 5:00 p.m. on Wednesday, September 18, 2019. Please review all materials and schedules carefully before submitting your qualifications.
Incomplete submissions, late submissions or submissions delivered through any other means than to specified email address will not be reviewed or considered.
Alameda Point Partners is not obligated to award funds solely to respondents of this RFQ and retains the right to re-solicit qualifications.
To download the RFQ document complete with visuals, click here.
About Trammell Crow Residential
Trammell Crow Residential (TCR) is a national multifamily real estate developer with a local presence in 13 key U.S. markets. Over 40 years, TCR has built over 275,000 premier multifamily residences, delivering amenity-rich communities in economically thriving locations nationwide. TCR and Crow Holdings Industrial (CHI) are part of the development platform of Crow Holdings, a privately owned real estate investment and development firm with a 70-year history and a proven track record of performance, partnership, and innovation. For more information, please visit www.crowholdings.com/tcr.
Media Contact
Company Name: Alameda Point Partners / Trammell Crow Residential
Contact Person: Anne Monaghan
Email: Send Email
Phone: 415.381.3001
Country: United States
Website: https://www.alamedapointpartners.com/