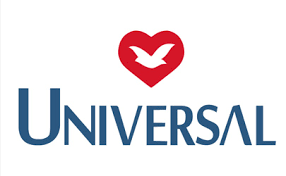 The Universal Church, a Bible-based Christian church with more than 300 locations across the U.S., has effectively launched mass media channels to connect with thousands of Americans. The advantage gained from these efforts, given the fact that we spend more than 11 hours every day consuming some form of media, is that the positive impact of The Universal Church is growing.
Long gone are the days when connecting with God's word could only be accomplished on Sundays during church service. Today, it's possible to see, hear and listen to biblical teachings and The Universal Church has capitalized upon mass media to make it happen every single day – including Sunday.
According to church officials, TV programs and 24-hour radio shows have been complemented by smartphone and laptop-based ventures to deliver messages from The Universal Church to the faithful. In the eyes of the church, every life is priceless and more good gets done when the reach is expanded. In today's modern society, growing reach means taking advantage of technology.
According to 2018 data from ratings firm Nielsen, "American adults spend over 11 hours per day listening to, watching, reading or generally interacting with media." With that in mind, the following offerings from The Universal Church should appear more relevant than ever:
The Showdown of Faith: This television program can be seen weekly on BET and strives to provide hope to viewers in less-than-ideal circumstances. The purpose of this program is to help people who are experiencing sickness, financial issues, spiritual oppression and a multitude of other obstacles in day-to-day life.
Canal De La Fe: This 24-hour TV channel from The Universal Church can be seen in California, Texas, Florida and more. The driving effort of the channel is to make outreach to the Hispanic community in America and offer prayers to those currently struggling. Viewers will see that thousands have testified to the power of faith and how it helped them defeat disease, depression and other generational curses.
iHope 104.5: Listeners in Houston, Texas can tune into iHope 104.5 and receive guidance that could put their lives on a new path. This station is directed toward teenagers and the fact that some 5,000 teens take their lives annually has spurred Bishop Bira Fonseca to action. The bishop lends his listening ear to teens and in return, the radio station has grown into a safe haven to talk about life, love, addiction and more. In addition to this program, The Universal Church also offers a 24-hour radio program helmed by Bishop Fonseca for those without a physical house of worship in their region.
These television and radio offerings have not only expanded the congregation but served as a lifeline in times of need – and that's what The Universal Church is most proud of.
About The Universal Church:
The Universal Church, started in 1977 by Pastor Edir Macedo, now has a presence in every state in Brazil and locations in the United States, Mexico, Spain and more than 100 other countries.
Visit https://web.universal.org/usa/ to learn more.
Media Contact
Company Name: The Universal Church
Contact Person: Luiz Pavao
Email: Send Email
Phone: (973) 474-2222
Country: United States
Website: universal.org