New York, NY – The Competitive Edge Conference, a professional conference designed to connect New York-based small businesses to government and private sector opportunities, is hosting its 25th Anniversary Celebration at Pier Sixty Chelsea Piers in New York City, New York on July 23, 2019 from 9:00 AM to 5:00 PM.
Organized for Minority and Women-Owned Business Enterprises (MWBEs), Disadvantaged Business Enterprises (DBEs), Locally Based Enterprises (LBEs), Service-Disabled Veteran-Owned Businesses (SDVOBs), and small businesses seeking to work with the government entities in New York, this full-day conference offers one-of-a-kind professional and business development opportunity for attendees.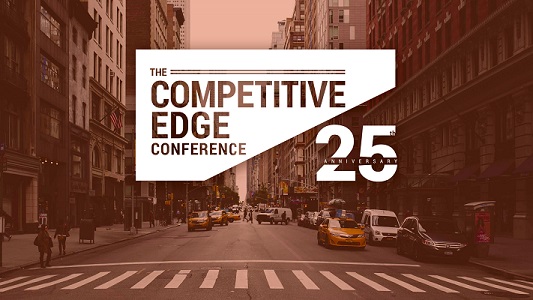 With a keynote address by Anthony Kendall, Chairman & CEO of Mitchel Titus, LLP, Cheryl Wills Mistress of Ceremony and a special performance by JW Cortes, Marine Combat Veteran turned singer and actor. Along with the government agencies, the conference has partnered with private sector businesses such as MasterCard, MasterYourCard, AECOM, and Battery Park City and other featured guest speakers, panelists and organizers promoting opportunities benefiting small businesses like never before at this annual historical event.
Featuring an engaging day of the meet and greets with key New York decision-makers, panel discussions, collaborative workshops, informational panels, and one-to-one matchmaking procurement networking opportunities, attendees will learn the latest marketing practices and trends in this realm of the business world. With panels discussions that include Grab that Opportunity! Discretionary Spend, Social Media: Converting Followers to Dollars, Financial Programs for Business Growth, and The Paradigm Shift, attendees will leave the conference with the skills, knowledge, and network required to take their business to the next level and secure prestigious government contracts.
To register for the event and secure your ticket to attend, please visit Eventbrite here.
For more information on The Competitive Edge, visit https://www.competitiveedgeconference.org.
About Competitive Edge Conference
Now in its 25th year, the one-day event sponsored by several public agencies, authorities and private corporations in New York focuses on "The Competitive Edge: Small Businesses Winning in New York State." The Conference agenda will assist firms seeking capacity building programs and access to contracting throughout New York State with projects estimated at over $30 billion.
Competitive Edge Conference Committee
Battery Park City Authority (BPCA), New York Power Authority (NYPA), Metropolitan Transportation Authority (MTA), The Port Authority of New York & New Jersey (PANYNJ), City University Construction Fund (CUCF), New York State Homes and Community Renewal (NYSHCR), Dormitory Authority of the State of New York (DASNY), New York State Insurance Fund (NYSIF), Office of the New York State Comptroller, Thomas P. DiNapoli, Office of the New York City Comptroller, Scott M. Stringer, New York City School Construction Authority (NYCSCA), New York City Economic Development Corporation (NYCEDC), New York City Department of Education (NYCDOE), New York City Department of Small Business Services (NYCSBS), New York City Department of Citywide Administrative Services (DCAS), Long Island Power Authority (LIPA) and New York City Housing Authority (NYCHA).
Social media contacts: Facebook, Twitter, YouTube
Media Contact
Company Name: NYC Hispanic Chamber of Commerce
Contact Person: Sulma Arzu-Brown
Email: [email protected]
Country: United States
Website: www.hispanicchamber.nyc