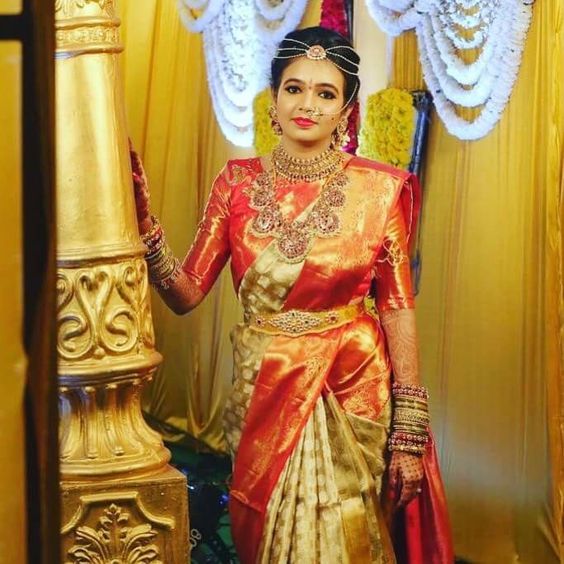 Bride and bridegroom picture is weaved in kanchipuram silk sarees pallu and border at kanjivaram silks
The latest trend in the kanchipuram wedding sarees is the photo weaving of bride and bride groom in the pallu of the kanchipuram saree. Kanjivaram silks is making the photo weaving of couples in kanchipuram sarees with picture perfect precision work. The couple photo weaving is done in completely handloom with electronic jacquards.
The ceo of kanjivaram silks, Mr vamsee says that "Colour choice of the silk fabric plays an important role in the output of the couple photos in the kanchipuram sarees. It is always best to go for colours like red and maroon, which will give best photo clarity in the saree".
Lot of young south indian brides are going for this couple pictures in kanchipuram wedding sarees and it's a nice long lasting memories to have wedding couple photo in the wedding sarees.
Indian wedding sarees come in a wide range and all set to take your heart away. You should not miss the chance to pick the right one since the online collection is also available just a click away from you. Whether it is about the style or the pattern, wedding sarees come up in a great way. The fact cannot be ignored that sarees always play a major role in order to promote Indian Ethnic Culture. These days, Saree is getting quite popular at the forefront because of its amazing pattern and design. The fabric of saree matters a lot since you might prefer to carry it all day long.
The wedding saree is designed by the experienced craftsmen and that is why quality is never compromised. But you also need to stay a bit aware while buying so that you would not have any issue later one. Make sure that you are going with the unique draping style. Indian women of all ages always love to carry saree on the auspicious occasion of life. The fact cannot be ignored that wearing saree on special occasions makes them connected to the culture. It makes them at peace. The popularity of Indian Saree cannot be ignored since it is increasing on a great level. Even in this modern era, a feminine dress saree is also fetching more attention. Wedding sarees have always been special because of its elegance and beauty both at the same time.
Why Indian Women Feel So Connected With Kanchipuram silk Saree –
The Indian women and the kanchipuram sari is just completely inseparable from each other. Indian womenare is just incomplete without having saree. Saying would not wrong that Indian kanchipuram Saree is still considered a garment for most women in India. On marriages, women still love to go with saree instead of Lehenga since they feel somewhere more connected with culture and tradition. Moreover, it is her D-day and how it could be completed without saree. This is why it is called that Indian women and the saree are just completely inseparable from each other.
The list does not get ended up here since modern fashionistas also fall in love with sarees. The bride loves to go with saree. They are a variety of sarees available to choose from. The cost of sarees actually varies from saree to saree as it depends on the quality of cloth as well as what kind of work has been done by the artisans. Talking about the popular wedding saree, there are so many such as Chiffon Sarees, Crape Sarees, Georgette Sarees, Brasso Sarees and so on.
Prominent 5 Types Of Indian Wedding Sarees Given –
Are you supposed to go ahead to attend any wedding function or going to be a bride hunting for an ideal one wedding saree? You have landed at the right place. Let's check it out the prominent wedding sarees mentioned below –
Banarasi Silk Wedding Sarees
Banaras silk sarees are just amazing because of holding the amazing amalgamation of beautiful mix feasts. The cost of Banarasi silk wedding sarees can vary from saree to saree. Talking about the general cost, it could be in between 2k-20k. You can check out the wide online wedding sarees collection in order to buy the best at the best online price.
Chanderi Wedding Sarees
Chanderi sarees are next on the list is widely known for their royal affairs and pretty peek. The cost of Chanderi Silk Saree could also be different from saree to saree. The online collection is all set to take you another world since it is just mindblowing.
Tant Wedding Sarees
Tant Wedding Sarees means you can add an incredible glam to your entire style. The crips cotton fantasizes is all set to make you go, attention grabber. The price could be in between 1K to 5K maximum.
Kanchipuram Wedding Sarees
Kanchipuram wedding Sarees are considered the most popular and famous among other sarees. When it comes to buying bridal sarees of South India Kanchivaram sarees, we all love to check out the wide collection available in between 2K to 50K. You will truly love to wear it them on a special occasion.
Assam Silk Wedding Sarees
Assam sarees are widely popular because of the delicate weaving of golden moga silk adding a glam look to entire the saree. Moreover, the vehement thread work done over the wedding saree could not be ignored. The cost of silk saree comes in between 7K and 10K.
Why kanchipuram Saree Is The Best Option To Carry On Wedding?
And it is just needless to say that kanchipuram sarees are considered the best option when it comes to Indian ethnic wear. Women of every age loves to wear it whether it is about heading to party, wedding or something else. Indian wedding kanchipuram silk saree or bridal sarees are high in demand because of having an ideal amalgamation. The online collection is just amazing and all set to take your heart away.
Whether it is about shades, design, fabric, borders on prints or embroidery, every wedding saree is just unique in its way. There are so many reputed brands to choose from. You need to be a bit careful when it comes to buying kanchipuram silk saree. The fashionistas never want to look rustic or outdated and kanchipuram wedding sarees can give you an amazing style lifting up your confidence too.
The wedding kanchipuram saree having six hours and lovely prints will take your heart away from you within a while. There are a variety of states available and that is why many styles are available to choose from.
Every girl wants to look amazing and prettier on her D-day. And she does not want to lose any chance to look amazing. To carry a perfect and pretties bridal appearance, all you need to do is just go with an amazing wedding saree.
Wedding is a d-day whether it is for the bride or the guests. Your dressing style says a lot about you. Therefore, you should not ignore the style of your saree ever. So, what are you waiting for? It is time to go and check the wide collection of amazing kanchipuram wedding sarees made up of the quality based products.
Media Contact
Company Name: Kanchipuram Silk Sarees Store
Contact Person: Vamsee
Email: Send Email
Phone: 9677063537
Address:251-9 Gandhi Road, (next to petrol bunk)
City: Kanchipuram
State: Tamil Nadu
Country: India
Website: https://kanjivaramsilks.com