"Expert Profiles – Volume 9" reached number one on Amazon.com's Best Seller List in the Service Industry category on July 2, 2019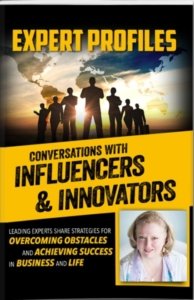 BEVERLY, Mass. – Beverly-based Healing Creative Founder Michelle Foss-Zampino, a featured contributor to the latest volume of "Expert Profiles Volume 9 – Conversations with Influencers & Innovators," hit Amazon.com's best seller list on July 2, 2019, climbing all the way to Number One in the Service Industries category and Number Three in the Business Ethics category. The book was also an Amazon Hot New Release in the Business Ethics and Service Industries categories.
Foss-Zampino was selected to be a featured contributor in this compilation of one-on-one conversations with top industry leaders due to her positive impact on burnt out caregivers, wellness practitioners and professionals throughout Boston's North Shore.
In the chapter "Energetic Healing for Burnt Out Professionals, Practitioners and Caregivers", Foss-Zampino reveals why professionals need to preserve energy and foster happiness now more than ever. The chapter focuses on what energetic healing can do to quickly transform a person's emotional state. Foss-Zampino also shares how leaving a 17-year career in insurance, a life-changing trip to Senegal West Africa and devastating family losses led her to offer advanced holistic therapies, classes and nutritional products throughout Boston's North Shore and beyond for the last 12 years.
In response to the book hitting the best seller lists, Foss-Zampino said, "One of the reasons I got into holistic health care is because I had no idea the toll my previous career was having on my physical, mental and emotional well-being until I started learning holistic therapies for my own self-care. When you have a happy, healthy environment to work in, you have happy, healthy employees that are going to want to do a good job. That, in and of itself, will increase the overall performance of the individual and the people and organization around them."
Healing Creative provides trainings to wellness practitioners and healthcare professionals who want to use the breakthrough energy-clearing system Realizing Your Sublime Energies (RYSE) for their clients or their own self-care. Foss-Zampino is one of the first practitioners nationwide trained by Spa Tech Institute and RYSE Founder Nancy Risley to deliver and teach groups and individuals RYSE for self-care. She is the only RYSE practitioner on the North Shore, besides Risley, who can teach practitioners how to use RYSE for clients.
"Expert Profiles Volume 9 – Conversations with Influencers & Innovators" is now available in digital and paperback editions at https://www.amazon.com/dp/B07TRWCNB1/ and most major online and offline bookstores and retailers. One hundred percent of the royalties from the retail sales of the 'Expert Profiles' book series are donated to the Global Autism Project.
About Healing Creative
Founded in 2005, Healing Creative is the North Shore's only collaborative offering advanced holistic therapies, classes and nutritional products specifically designed to help individuals achieve optimal health, happiness and wholeness. We are committed to delivering our "no-judgment, meet you where you are" approach to healing, and driven to facilitate greater collaboration between the holistic and medical models of health care.
To learn more about how our wellness services, products and programs can transform your state of being, visit https://healingcreative.com/.
Location Info:
Healing Creative Wellness Studio
186 Cabot Street, Beverly, Massachusetts 01915
(781) 308-2209
Media Contact
Company Name: Healing Creative
Contact Person: Michelle Foss-Zampino
Email: Send Email
Phone: 781-308-2209
Country: United States
Website: https://healingcreative.com/