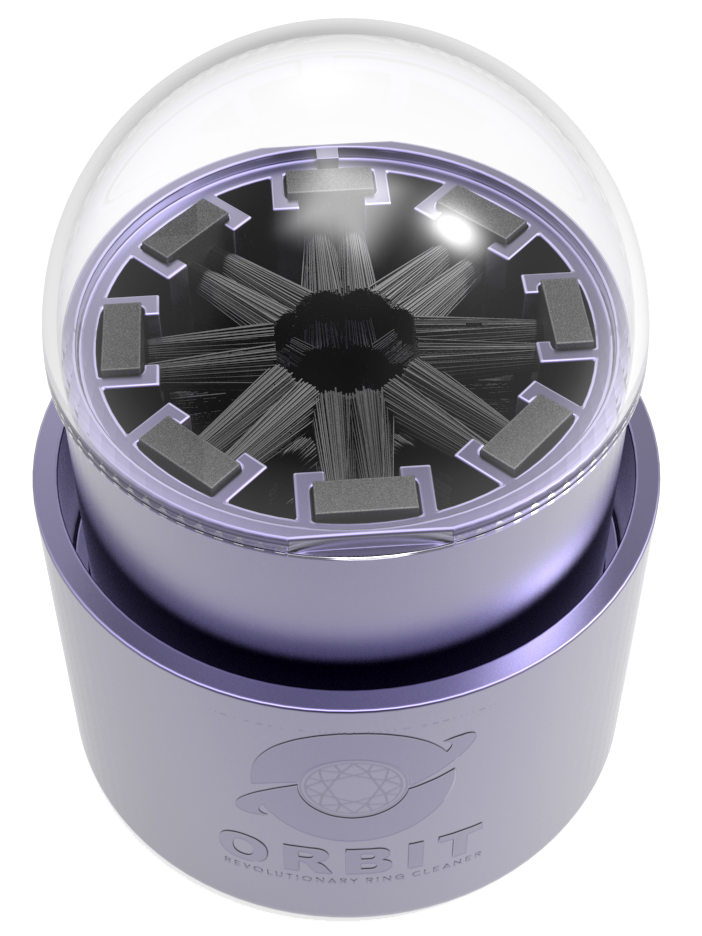 "I've been in the fine jewelry business for over 20 years," says ORBIT creator Adam Shatz. "My customers are always asking how to protect their investment by keeping their rings clean. I wanted to design something that is effective, yet quick and easy to use, affordable and safe for both the jewelry and the environment, without the use of harsh chemicals. The result is ORBIT, a one-of-a- kind jewelry cleaning device. With proper care, you and your rings can live happily ever after."
Everyday activities ranging from cooking or chores to exercising or commuting to work can lead to a grimy buildup on diamond and gemstone jewelry. What's more, putting on makeup, lotion, hair products, sunscreen or perfume leaves a film on rings, making it look dull and dingy. Even food, soap or oils from fingers can cause problems.
While it's always best to try and avoid getting a ring dirty to begin with by removing it or wearing gloves when appropriate, it's not always practical to keep taking the ring on and off.
To keep rings looking sparkling and beautiful, clean them easily at home with ORBIT: The Smart Ring Cleaner. ORBIT safely cleans all types of diamond and gemstone rings, as well as men's and women's wedding bands in gold and platinum. With a patented 360-degree "twist-brush" design, this innovative cleaner gently reaches under and around the stones with a simple spin of the wrist. In just 60 seconds, using water and dish soap, rings will come out sparkling clean. Depending upon a person's lifestyle, rings should be cleaned at least once a month. Orbit The Smart Ring Cleaner sells for $19.99 at www.orbitcleaner.com
The ORBIT cleaner is not only for diamond and gemstone engagement, wedding and anniversary rings, but also for gold and platinum wedding bands to help keep them from looking discolored. It's also not just for women's jewelry.
"More and more men are choosing rings with intricate patterns or gemstones which need the same upkeep to stay looking their best," adds Shatz.
It's important to keep anything abrasive like bleach or household cleaners away from jewelry. These can damage the metal. In addition, contrary to popular belief, do not use baking soda or toothpaste, as they are not good for diamonds. Ultrasonic jewelry cleaners should also be avoided for home use since the strong vibrations could possibly cause stones to become loose. Other safety tips for rings include making sure to keep them in a designated jewelry holder or box when removed and keeping drains closed when rings are near sinks or tubs. Use soft lint-free cloths for drying rings and hands when possible, and periodically check for loose stones or prongs.
Media Contact:
Liz Ammirato
[email protected]
845-621-2005
Media Contact
Company Name: CATHY CALLEGARI PUBLIC RELATIONS INC
Contact Person: Cathy Callegari
Email: Send Email
Phone: 212-579-1370
Address:159 Madison Avenue, Apt. 5J
City: New York
State: NY
Country: United States
Website: www.callprinc.com