The Views Senior Living of Marion, Iowa, Unveils the Nation's 1st WELL Registered Assisted Living, offering a beautiful, healthy and delightful environment for seniors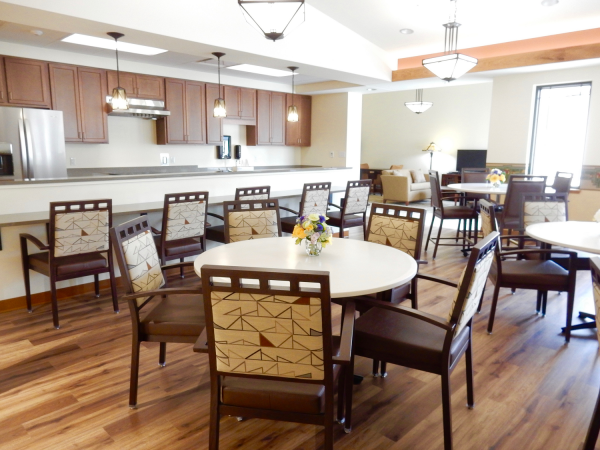 The 4 years of research, planning, design and construction has eventually paid off as The Views Senior Living of Marion, Iowa has opened its doors to the public with residents moving into Marion's stunning senior-living continuum of care community. The Views has made history, becoming the Nation's 1st WELL Registered Assisted Living and offering 30 independent and assisted-living apartment homes, 34 memory-care suites and 40 private skilled-nursing and rehabilitation suites.
"WELL is about how people who live and work within the building can have their health and wellness optimized. This was the mission of our very visionary client Dr. Michael Pietrzak. Dr. Mik, as he is affectionally referred to by our team, brought this vision to us when WELL was still unknown. The hallmark of his work as a physician is health and wellness and it is our mission to create healing environments."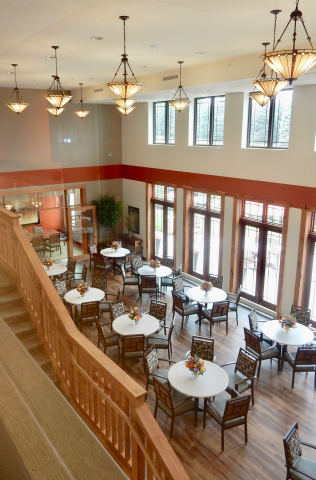 Huelat Davis' Healing Design led the interior design of The Views. "For the past four years, we have researched, designed and worked with our visionary client and design team to develop an innovative and healthy senior living community of assisted living, rehab long-term care and memory care environments," said Barbara Huelat.
The Views of Marion includes Ridgeview Assisted Living, MeadowView Memory Care Village, and Oakview Nursing & Rehabilitation. Designed for the health and wellness of the residents and staff, The Views is similar to LEED (Leadership in Energy and Environmental Design) certification, with certification administered by Green Business Certification Inc.
The building's environment adheres to the seven standards of clean air, pure water, quality lighting, healthy nutrition, access to fitness, comfort, and mind. Residents can enjoy diverse venues for healthy food and entertainment, the charm of familiar neighborhoods, and the cozy feeling of home. The campus also provides multiple delightful destinations including a coffee shop, movie theater, arboretum, fitness center, health clinic, salon, and eight acres of walking trails, outdoor gardens and wildlife.
Memory Care Village is planned and designed to assist the resident with memory impairment, integrating evidence-based science and Montessori teaching methods to give residents the maximum freedom of movement, cognitive engagement and socialization.
The Oak View Nursing & Rehabilitation offers skilled rehabilitation and long-term care in a state-of-the-art environment where residents can prepare for their return home. Residents enjoy large windows, great views of nature, and large beautifully appointed private rooms with access to small home-like dining rooms and private outdoor courtyards.
The campus building interiors are designed in the Arts and Crafts style and feature original art, recovered stained glass panels, reclaimed timber from the site, vintage accessories, and healthy materials reflecting the familiar of the community.
More information about Healing Design and the amazing projects undertaken by Barbara Huelat can be found here – www.healingdesign.com.
About Healing Design
Healing Design was founded by Interior Designer, Author, and Speaker, Barbara Huelat, FASID, EDAC, AAHID. Over the years, Barbara Huelat has worked on over 300 healthcare engagements covering all types and sizes of domestic and international healthcare facilities, including signature projects with Mayo Clinic, National Institutes of Health, and National Cancer Institutes of Japan.
Media Contact
Company Name: Healing Design
Contact Person: Barbara Huelat, FASID, EDAC, AAHID
Email: Send Email
Phone: +1 703-838-8314
Address:211 Lee Ct
City: Alexandria
State: VA 22314
Country: United States
Website: http://www.healingdesign.com