After months of hard work and extensive planning, Pumpup Sdn Bhd are delighted to launch its new multi-purpose website. The new and completely redesigned website offers members and visitors new visual features and easy access to essential information to enhance the user's experience.
Pumpup Sdn Bhd unveiled a completely redesigned and rebranded website at www.pumpup.com.my The website is expected to provide users a clean, uncluttered design that incorporates improved functionality and enhanced content. The website announcement is in coordination with a rebranded identity for Pumpup Sdn Bhd. Pumpup Sdn Bhd has undergone a brand refresh; with the release of a new and modernised logo and visual identity.
Pumpup Sdn Bhd worked hard to ensure that the website would help achieve core business initiatives and serve customers, while representing the brand image strategically and effectively.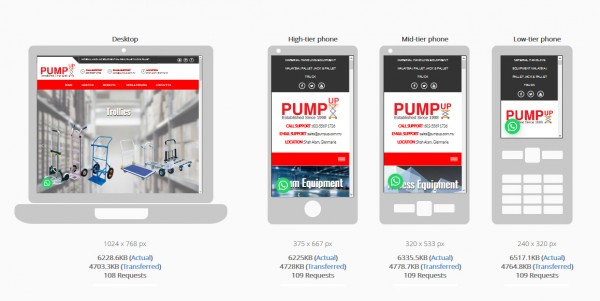 Www.pumpup.com.my was provided with fresh and engaging content and is also fully-responsive, meaning that it can easily be navigated through a multitude of devices, including desktops, laptops, mobile devices, tablets, and more.
"We are thrilled to launch our new company website to our clients, business partners, and visitors who are looking for material handling equipments in Malaysia" said Mr. Lim, Director of Pumpup Sdn Bhd. "This website redesign and branding truly ties together all of our administration offices into one place and allows for visitors to have the same experience and access to our wide range of material handling equipments products such as pallet truck, scissors lift table, hand jack, reach truck and drum equipment"
The new website will be updated on a regular basis with news of product launches, regulatory changes, essential client information, and corporate milestones.

About Pumpup Sdn Bhd
PumpUp (M) Sdn. Bhd. was established in 1998 in Malaysia as an importer and supplier of Material Handling Equipment such as hand jack, skates, pallet jack, weighing scale and high pressure pumps. With more than 20 years of experience in supplying material handling equipment, Pumpup strive to be ahead of the competition in this industry by constantly improving their services and also developing the best available technology of products.
Video Link: http://www.youtube.com/embed/COQwexLvN8s
Media Contact
Company Name: Pumpup Sdn Bhd
Contact Person: Mr. Lim
Email: Send Email
Phone: +603-5569 1736
Address:No. 55, Jalan Penulis U1/42, Hicom-Glenmarie Industrial Park
City: Shah Alam
State: Selangor, 40150
Country: Malaysia
Website: www.pumpup.com.my