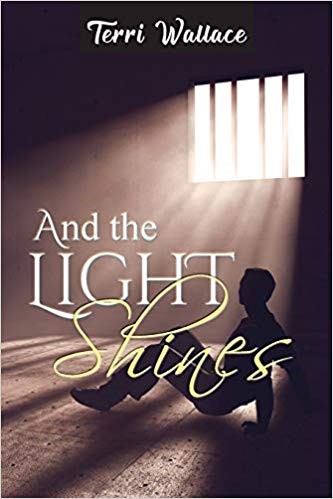 Creston, British Columbia, Canada – July 5, 2019 – Life isn't easy – everyone goes through one form of struggle or another in traveling the journey called life. And the Light Shine by Terri Wallace captures that very essence of life in And the Light Shine. It follows the life of Chris in prison, how what he thought was the end of the road, proven wrong as God opened another path for him, away from the throes of prison life.
Terri Wallace had written the book many years ago, and when she allowed someone to read it, the publishing process began and "And the Light Shine" came into being. Interestingly, the book wasn't a product of Terri Wallace's dream of becoming a published author. She says, "I was challenged in my late teens to write because I liked writing. I took up the challenge and wrote the book. Then it sat for over 25 years." And, it finally saw the light of day as "And the Light Shine."
Terri Wallace writes in "And the Light Shine" that faith is often taken for granted. She says, "People think faith is easy until challenge comes. The book deals with challenges and how Chris deals with the challenge from a prison cell." The story has flashbacks as to how Chris got incarcerated in prison and follows how he is at present, going into the future. Terri Wallace's "And the Light Shine" is a product of a challenge by someone that she couldn't write a book and she did by the Faith in God and her own will to get the better of the challenge.
"And the Light Shine" is in a class of its own due to the redefining and the refining of the battle between good and evil – it's portrayed so differently with the incorporation of having faith in God and letting him lead the way and show the righteous path. Terri Wallace also raises questions about how faith can be stuck out during troubled times and attempts to answer them – it's about the glory of God.
About the author
Terri Wallace was born in 1964 in Niagara Falls, Ontario, Canada. She had always enjoyed reading, writing, and theatre. The author became a minister in the year 2000. She later left after being diagnosed with MS, and faith in God helps her pull through.
In a suiting way, Terri Wallace's favorite quote is, "My grace is sufficient for you, for my power (strength) is made perfect in weakness. 2 Corinthians 12:9."
For more information, visit Amazon book link https://www.amazon.com/Light-Shines-Terri-Wallace/dp/1950256626/ref=tmm_pap_swatch_0?_encoding=UTF8&qid=1550608494&sr=8-1
Website: http://twallace-andthelightshines.com/
Social Media Accounts:
Facebook: https://www.facebook.com/AuthorTerriWallace/
Twitter: https://twitter.com/AuthorTWallace
Tumblr: https://authorterriwallace.tumblr.com/
About Toplink Publishing
Toplink Publishing offers highly scalable platforms that are growing quickly, positioned to become the global leader in accessible and strategic publishing and marketing solutions. For new book/books to publish or publicize one's published work, contact by calling 1-888-375-9818.
Media Contact
Company Name: Toplink Publishing
Contact Person: Terri Wallace
Email: Send Email
Phone: 888-375-9818
City: Kelly
State: North Carolina
Country: United States
Website: https://www.toplinkpublishing.com/