All car insurance accepted for damages to windshields and glass by Jacobs Auto Glass.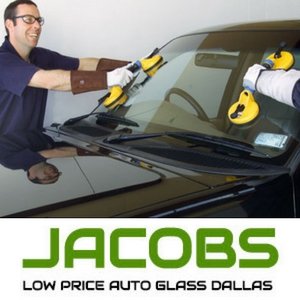 Jacobs Low Price Auto Glass will now accept all insurance companies. By accepting all insurances, Jacob's Low Price Auto Glass can determine if a damage claim to one's car will be paid for by insurance companies. Some auto shops limit the insurance companies that they work with therefore limiting if a claim will be accepted or denied. In accepting all insurance companies, Jacobs Low Price Auto Glass can provide complete service in windshield replacement, door glass replacement, power window repair, and upholstery.
Many drivers do not realize that chipped, cracked, and broken windshields are among the most common car repairs and that car insurance may pay for damage. Drivers who have comprehensive coverage can typically have damages made to their windshields from storms, fires, vandalism, and animal collisions. In most cases, a claim for glass damage that does not result from a collision, does not cause car insurance rates to increase.
Jacobs Low Price Auto Glass also handles upholstery damage and some car insurance with comprehensive coverage can help pay for the interior damage. Comprehensive coverage can reimburse you for damages that result from falling objects, vandalism, theft, or fire.
Jacob Jones of Jacobs Low Price Auto Glass states, "We are happy to work with all car insurance to provide quality work to driver's damaged cars."
Jacobs Low Price Auto Glass can take care of all these repairs and will accepts all car insurances if drivers qualify. Jacobs Low Price Auto Glass will determine if damage to a windshield needs to be replaced or can be repaired. Drivers should fix small cracks and chips quickly to reduce the chances of it spreading and potentially causing a complete replacement of the window.
Jacobs Low Price Auto Glass has been in the auto business for the past 14 years serving the Dallas/Ft. Worth Metroplex area. They have a free mobile service for those clients within a 15 mile radius of their location for auto glass repair. They employ a team of professionals with experience in all makes and models of cars. They also work with a variety of brands, with various prices and options whether a drivers car insurance qualifies or not.
Location Info:
Jacobs Low Price
8835 S Central Expy, Dallas, TX 75241
(214) 372-9300
http://www.lowpriceautoglass49.com/
Media Contact
Company Name: Local Blitz PR
Contact Person: Jane Darcy
Email: Send Email
Phone: 8587712060
Country: United States
Website: http://localblitzpr.com