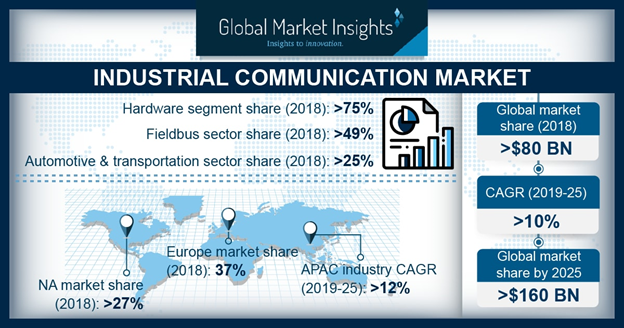 Siemens, Cisco, Schneider, General Electric, Honeywell International, Eaton, Belden, Omron Corporation, ACS Motion Control, Beckhoff Automation, ABB, Rockwell Automation, and Moxa
The hardware market has held a major share in the industrial communication market due to the widespread usage of physical infrastructure components such as routers, switches, controllers, and communication interface devices
Industrial Communication Market is expected to surpass USD 160 billion in revenue by 2025. The extensive usage of Industry 4.0 technologies in the industrial landscape is driving the growth of the industrial communication market. Several enterprises are leveraging on various next-generation industrial technologies, such as Industrial Internet of things (IIoT) and additive manufacturing, to enhance the operational efficiency by incorporating new business models into their assembly lines. This has allowed the companies to build smart supply chains with an efficient-end to-end ecosystem. The gradually rising need among various industry verticals to minimize their CAPEX while increasing operational efficiency is a key factor promoting the demand for automation.
Request for Sample Copy of this Report@ https://www.gminsights.com/request-sample/detail/3367
The influx of various favorable government initiatives to promote digitization and automation is incentivizing industries to upgrade their existing communication infrastructure. The regulatory bodies are working closely with industry giants, such as Siemens, ABB, and GE, to promote the use of advanced communication solutions. Moreover, the introduction of new and advanced communication protocols & standards is also spurring the industrial communication market. Most of the legacy protocols are series based, unable to keep up with the real-time data transmission needs of IIoT devices. To address these issues, enterprises are progressively moving toward new and flexible connectivity mechanisms.
The hardware market has held a major share in the industrial communication market due to the widespread usage of physical infrastructure components such as routers, switches, controllers, and communication interface devices. Switches accounted for over 25% revenue in the market landscape as it plays a pivotal role in the overall functioning of the network infrastructure for implementing new connectivity-enabled strategies. The technological advancements in industrial switches have encouraged its usage in industries with harsh working environments. The services market will attain a CAGR of 10% over the forecast time period.
Make an Inquiry before buying @ https://www.gminsights.com/inquiry-before-buying/3367
Fieldbus held a major share of over 49% in the industrial communication market in 2018 due to the extensive adoption of protocols, such as PROFIBUS, CC-Link, and Modbus, across various process-oriented industries. PROFIBUS accounted for over 38% market share in 2018. This is attributed to its ability to seamlessly integrate digital input & output devices and discrete motion control aspects, such as analyzers, belonging to various third-party solution providers. Moreover, the inexpensive nature of the technology is promoting its usage across various small industrial players.
The automotive & transportation market is leading the industrial communication market landscape with a market share of over 25% in 2018. The automotive industry comprises large players with strong financial condition. This has allowed them to integrate advanced automation, data exchange, and communication technologies into the assembly lines. In addition, the requirement of higher production volumes within shorter timeframes is further augmenting the usage of communication technologies in the sector. The aerospace sector will grow at a CAGR of 11% over the projected time duration due to the need to minimize quality costs and cycle times.
Browse Complete Report@ https://www.gminsights.com/industry-analysis/industrial-communication-market
The Europe region held more than 37% of the total revenue in the industrial communication market in 2018 due to the high degree of investments in Industry 4.0 technologies to modernize existing facilities. The region accounts for more than a third of the worldwide investments in Industry 4.0 and IIoT initiatives. Countries in Northern Europe and Western Europe including Germany, France, and the UK have been able to attract most of these investments. The Asia Pacific region will grow at a CAGR of 12% over the projected time duration due to rapid industrialization in countries including China, India, and Indonesia.
Some of the vendors present in the industrial communication market are Siemens, Cisco, Schneider, General Electric, Honeywell International, Eaton, Belden, Omron Corporation, ACS Motion Control, Beckhoff Automation, ABB, Rockwell Automation, and Moxa. The companies operating in the market are adopting inorganic growth strategies to increase their customer base in the market. For instance, in October 2016, Rockwell Automation acquired Maverick Solutions, a solution integrator, to gain new technical expertise in sectors such as food & beverage, chemical, and oil & gas.
Media Contact
Company Name: Global Market Insights Inc.
Contact Person: Arun Hegde
Email: Send Email
Phone: 1 302-846-7766
Address:4 North Main Street
City: Selbyville
State: Delaware
Country: United States
Website: www.gminsights.com/industry-analysis/industrial-communication-market