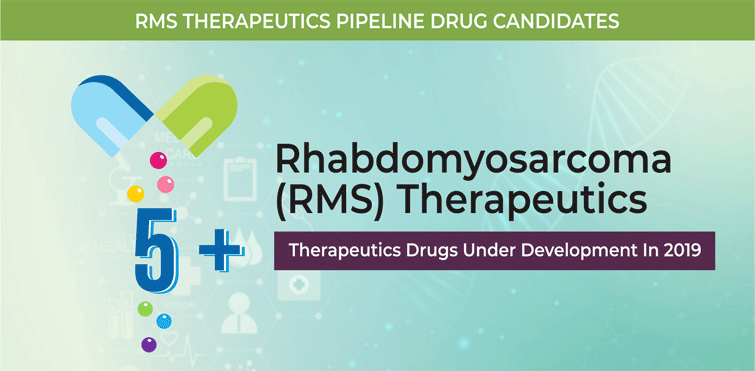 According to a new research report "Rhabdomyosarcoma (RMS) Therapeutics – Pipeline Analysis 2019, Clinical Trials and Results, Patents, Designations, Collaborations, and Other Developments" published by Pharma Proff, RMS therapeutics currently exhibits a proliferating pipeline with 5+ therapeutic candidates.
Rhabdomyosarcoma (RMS) is a type of cancer that usually affects children. Soft tissues or hollow organs such as bladder or uterus are often affected by this disease. There are mainly two types of RMS: embryonal RMS (ERMS) and alveolar RMS (ARMS). Other types include anaplastic RMS and undifferentiated sarcoma. Depending on the type, RMS is likely to affect head and neck area, vagina, urinary bladder, uterus or testes, arms, and legs. There are certain risk factors associated with the disease, such as genetic disorders, including Li-Fraumeni syndrome, neurofibromatosis, Beckwith-Wiedemann syndrome, and Costello syndrome.
Download the Sample pages of Report at: https://www.pharmaproff.com/request-sample/1250
People affected from RMS may face different signs and symptoms, some of which may not be seen until the tumor becomes large. The most common symptoms observed in 50% of the children with this disease include bleeding from nose, throat, vagina, or rectum (depending on the location of tumor); numbness, pain, or tingling if the tumor affects nerve areas; and loosening of eyelids (may indicate a tumor behind the eyes).
The diagnosis of the disease is reliant on features such as tumor size and where it starts. It can be detected by studying complete medical history of the patient, and imaging tests, such as X-ray, magnetic resonance imaging (MRI), computed tomography (CT) scan, bone scan, and others.
Get the detailed analysis at: https://www.pharmaproff.com/report/rms-therapeutics-pipeline-analysis
RMS can be treated by surgery, chemotherapy, radiation therapy, and stem-cell transplantation. Moreover, Cosmegen (Ovation Pharmaceuticals Inc.) and VinCRIStine Sulfate (Hospira Inc.) are amongst the drugs approved by the United States Food and Drug Administration (USFDA).
According to the research findings, majority of pipeline drug candidates are being developed for intravenous route of administration. In this route of administration, entire administered dose reaches the systemic circulation immediately, which increases the bioavailability of drug.
Companies that are actively seeking designation grants to accelerate the process of development. For instance, Taiwan Liposome Company Ltd. was granted Pediatric Disease Designation for TLC178 drug by the USFDA in April 2017 for the treatment of RMS. The company also submitted an investigational new drug (IND) application in June 2018 to initiate a phase I/II clinical study of TLC178 to evaluate pediatric RMS patients.
Cosmegen and VinCRIStine Sulfate are approved drugs for the treatment of RMS. Moreover, with the emergence of late- and mid-stage pipeline products in the market, the overall RMS therapeutic market is expected to rise significantly in the upcoming years.
Taiwan Liposome Company Ltd., Ovation Pharmaceuticals Inc., Hospira Inc., F. Hoffmann-La Roche Ltd., Epizyme Inc., and Novartis AG are some of the significant players involved in the development of RMS therapeutics.
RMS Therapeutics Pipeline Analysis
By Phase
By Molecule Type
By Route of Administration
By Company
The report comprises detailed pipeline analysis of therapeutics being developed for the treatment of RMS. Comprehensive insights on the pipeline products have been provided, with special focus on strategic developments of key players, information on drug licensing, designations, financing, and grants, technological advancements, patents, and upcoming conferences. In addition, the report highlights the winning strategies of companies involved in the RMS therapeutics development. Detailed regulatory approval procedures in the U.S., Europe, and Japan are also provided in this report. Furthermore, the report contains competitive analysis and extensive information on monotherapies, combination therapies, targets and mechanisms of action, and drug origin with respect to RMS.
Browse similar reports by Pharma Proff

Synovial Sarcoma Therapeutics Pipeline Analysis

Myasthenia Gravis (MG) Therapeutics Pipeline Analysis

About Us:
Pharma Proff, is a frontline market intelligence and consulting solutions provider catering to the information and data needs of burgeoning sectors across the world, including pharmaceutical and healthcare. With meticulously curated research reports on the industry landscape, we empower companies in the healthcare and pharmaceutical sectors to make informed business decisions and base their marketing strategies with astuteness.
Media Contact
Company Name: Pharma Proff
Contact Person: Manish Baghel
Email: Send Email
Phone: +1-347-960-6455
Country: United States
Website: www.pharmaproff.com