We have reached mid-year already and now it is the best time to get an extreme cleaning make over in your facility. Let Savassi Cleaning Services LLC help you with that.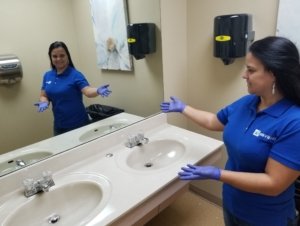 Boca Raton, FL – July 2, 2019 – July is the perfect time to refresh and reorganize one's business. It marks the midpoint of the year, a good moment to take stock on the last six months and get focused on the next six. On July 4th, 1776 thirteen colonies declared independence and started over as a new, independent country destined for greatness. On July 4th, 2019 rejuvenate the office with a thorough cleaning from Savassi Cleaning Services and hit the restart button for the rest of the year. For the entire month of July Savassi Cleaning Services is offering 20% off all new monthly accounts.
For many businesses July 1st is also the start of a new fiscal year. In these lean economic times why should anyone pay more for their cleaning services than absolutely necessary? Savasi Cleaning Services' cleaning programs emphasize personalization — daily, weekly, or monthly — since each business has different needs. Aside from the friendly staff and the professional-grade cleaning, clients praise Savassi Cleaning Services for their affordable rates and pricing.
Says one customer, "I have been using their services for about 4 years and would recommend them to anyone. The best part was that they catered to my needs. I started with once a week cleaning, and after a couple of months I decided to hire them to clean my office 5 days a week. The cleaning rates are awesome. They are by far the best office Cleaning services Florida. Thanks, Savassi Cleaning Services, for always keeping us sparkling."
Another client says: "Savassi Cleaning is a very responsible and professional cleaning company. They always get the job done on time. They are very flexible to work with our schedule. I'll refer them at any time!"
Savassi Cleaning Services provides all manner of office cleaning FL and janitorial services FL including floor waxing, stripping and sealing, commercial cleaning services FL, carpet cleaning, porter services, and window cleaning. To learn more about our services and green cleaning practices and to get a free quote, contact Savassi Cleaning Services or call 561-410-3679.
Location Info:
Savassi Cleaning Services LLC
22545 SW 66th Avenue, Boca Raton, FL 33428
(561)410-3679
Media Contact
Company Name: Savassi Cleaning Services LLC
Contact Person: Leonardo
Email: Send Email
Phone: (561)410-3679
Country: United States
Website: https://www.officecleaningflorida.com/