"VIOLENCE VOYAGER will blow your goddamned mind!" wrote Screen Anarchy.
Los Angeles, CA – June 26, 2019 – 'VIOLENCE VOYAGER' adventures to Berkeley, Philadelphia and St. Louis to commence its USA weeklong theatrical from July 5-12.
Writer/Director, Ujicha's (The Burning Buddha Man, Fool Japan: The ABCs of Tetsudon) latest VIOLENCE VOYAGER (aka 'Baiorensu boijâ') is a unique and mind-blowing usage of previous off-the-wall animation technique, "gekimation."
"The gekimation style is largely innocuous as the film begins, simply a canvas on which to paint, but as the film moves through its disgusting paces, the live action animation allows for increasingly gruesome and bloody elements to engage the audience in a disgustingly visceral way," wrote Screen Anarchy.
Set in the present-day Japanese countryside, VIOLENCE VOYAGER follows two friends, Bobby (Aoi Yûki)and Akkun, who embark on an adventure into another village, located over the other side of the mountain. Looking for a shortcut, the friends stumble upon a mysterious amusement park called Violence Voyager. Blissfully unconcerned of the park's lack of children, Bobby and Akkun have endless fun until they're attacked and stuck inside the theme park. Soon, the friends' fun-filled adventure descends into a nightmare involving naked humanoid robots and suspicious adults leading to a metamorphosis for each of our young heroes. Working alongside the park's other lost children, together they must fend off a number of attacks, including the park's proprietor, Koike, as they gradually learn the truth behind the facility.
World Premiered at the 2018 Official International Competition of Buenos Aires International Film Festival of Independent Cinema (BAFICI) in Argentina, VIOLENCE VOYAGER received the festival's 'Special Jury Award'. Successfully competing worldwide and continuing on the film festival circuit, additional accolades include the 'Bronze Audience Award' from Fantasia Film Festival and the 'WTF?!? Award' from Buried Alive Film Festival.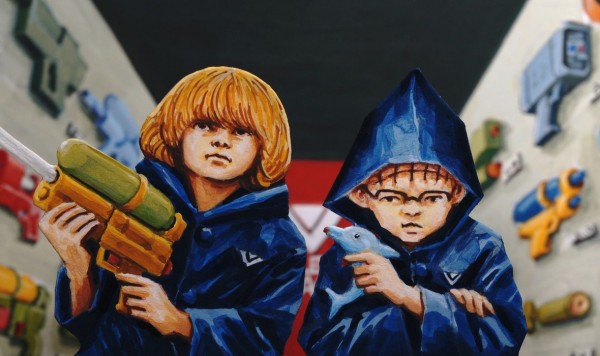 Photo: Calgary Underground Film Festival.
"Done with heart and dedication, told with passion and love that turns it into an unforgettable journey called VIOLENCE VOYAGER," wrote Movie Moves Me, "The deep friendship we see between Akkun and Bobby is mesmerizing. Character development is truly outstanding. Everything from the start to the end is a must-see."
VIOLENCE VOYAGER will commence its USA theatrical leg at Berkley's California Theatre, St. Louis' Tivoli Theatre and Philadelphia's Ritz Bourse Theatre beginning Friday, July 5 – 12. To enter the twisted world of VIOLENCE VOYAGER with press passes, please contact [email protected].
Starring original voices from two-time award winner, Naoki Tanaka (Minna no ie, All About Our House, Zebraman 2, Arisu no toge), Aoi Yûki(Your Name, Erased, Kamen Rider), Daisuke Ono (Jojo's Bizarre Adventures, Black Butler, Mr. Osomatsu), Saki Fujita (Attack on Titan series) and Shigeo Takahsashi (Nichijo – koi no koe, Deka Kurokawa Suzuski, Saraba itoshi no daitoryo), VIOLENCE VOYAGER stars voiceovers from legendary Debi Derryberry (Jimmy Neutron: Boy Genius) and Cedric Williams (Toradora).
Watch the trailer here: https://vimeo.com/329659360.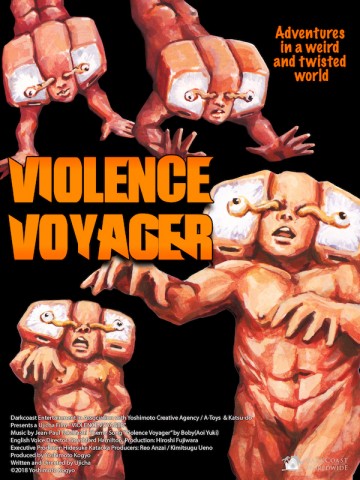 VIOLENCE VOYAGER (2018, 83 min.) Directed and written by: Ujicha. Producers: Reo Anzai, Kimitsugu Ueno. Animation, Editor and Cinematographer: Ujicha. Composer: Jean-Paul Takahashi. Japan, Japanese / English subtitles. Free Stone Productions Co., LTD., DarkCoast.
PRODUCTION COMPANY: Free Stone Productions Co., LTD.
DarkCoast is a division of TriCoast Entertainment:
DarkCoast – TriCoast's horror label. A new home for story-driven American films, TriCoast Entertainment is a full service media company that creates, produces, manages and distributes unique and unusual entertainment. Bringing together filmmakers, distributors, financiers, and technologists, TriCoast Entertainment embraces change by redefining the production and distribution model for indie filmmakers.
Founded by: Strathford Hamilton and Marcy Levitas Hamilton.
Media Contact
Company Name: TriCoast Entertainment
Contact Person: Jenna Wilen
Email: Send Email
Phone: 3104587707
Address:11124 Washington Blvd.
City: Culver City
State: California
Country: United States
Website: http://www.tricoastworldwide.com