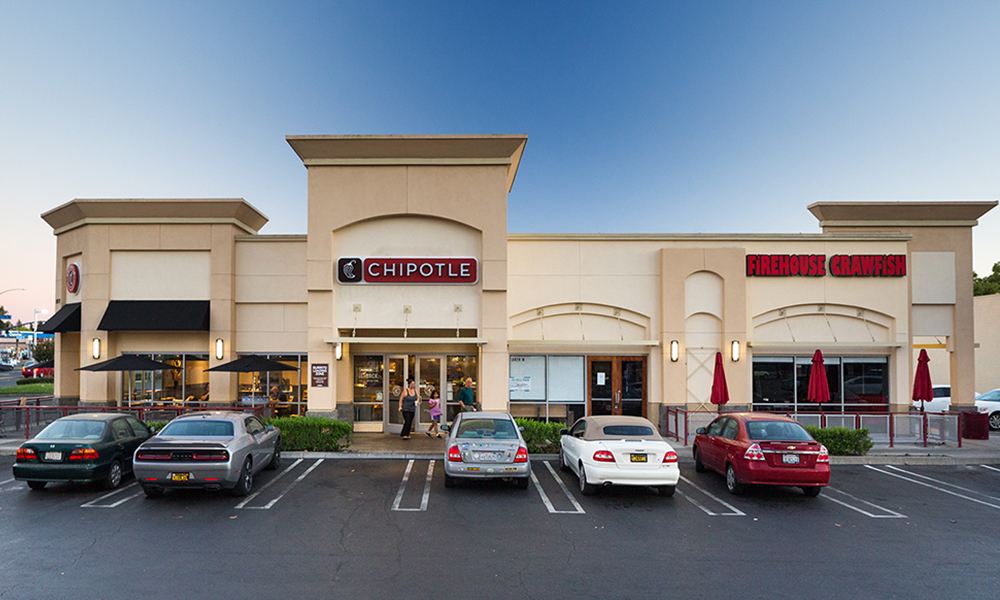 RANCHO CORDOVA, Calif.- Hanley Investment Group Real Estate Advisors, a nationally recognized real estate brokerage and advisory firm specializing in retail property sales, announced today that the firm completed the second transaction in the break-up sale strategy of the 99 Cents Only-anchored Zinfandel Crossings in the Sacramento metro area. The property is located at the on/off ramp to U.S. Route 50 at 2878 Zinfandel Drive in Rancho Cordova, Calif. The two-tenant retail pad building, which is occupied by Chipotle Mexican Grill and Firehouse Crawfish restaurants, sold for $2,320,000.
Hanley Investment Group's Executive Vice Presidents Kevin Fryman and Bill Asher, along with Ed Hanley, president of Hanley Investment Group represented the seller, a private investor based in Santa Monica, Calif. The buyer, a private investor from Fremont, Calif., was represented by Towis Le of Century 21 Real Estate Alliance of San Jose, Calif.
The two-tenant, 4,414-square-foot retail pad building is situated on 0.65 acres and is occupied by a 2,274-square-foot Chipotle, which has been a tenant since late 2005 when the building was completed. Firehouse Crawfish opened in 2018 and occupies 2,140 square feet.
"We procured a local buyer and structured a timely 30-day escrow with new financing while achieving the seller's target closing date to comply with their reverse 1031 exchange requirement," said Fryman.
Chipotle Mexican Grill, Inc. (NYSE: CMG) had approximately 2,500 restaurants as of March 31, 2019, in the United States, Canada, the United Kingdom, France and Germany and is the only restaurant company of its size that owns and operates all its restaurants.
"Chipotle has done extremely well under the leadership of Brian Niccol, the former head of Taco Bell, who took over the company in early 2018," said Fryman. "Since then, Chipotle has added new salad bowls to cater to consumers on paleo and ketogenic diets and has also introduced more menu options for vegetarians and vegans. The firm has also focused on mobile ordering and payments. Sales have soared and so has the company's stock price."
Hanley Investment Group recently sold the 99 Cents Only store and inline shop buildings totaling 54,004 square feet on 4.76 acres at Zinfandel Crossings. According to Fryman, the property, which was built in 1971, offered the buyer upside potential through 99 Cents Only's below-market rent and the future lease-up of 22 percent vacancy.
Zinfandel Crossings is located at the dominant retail signalized intersection in Rancho Cordova at Zinfandel Drive and Folsom Boulevard with 44,000 cars per day. Other national tenants located at the intersection include Grocery Outlet, Marshalls, Michaels, PetSmart, Ross Dress for Less, Safeway, Target, ULTA Beauty, Walgreens and Walmart Supercenter.
"We have been able to maximize value for the seller through individual sales to private non-institutional investors in a price range of $2-$5 million that in today's market appeals to arguably the largest buyer pool in the retail investment industry," said Asher. "Buyers recognize that this shopping center and its location and demographics offered upside as well as stability. There are 216,000 people with an average household income of $92,000 within a five-mile radius of the shopping center."
The city of Rancho Cordova is the fastest growing city in the county and is considered the second largest office hub and employment center in the region. There are 55,000 jobs and 3,000 businesses located in the city with 11.4 million square feet of office space and 18 million square feet of industrial space. Fortune 500 companies with regional facilities in the city include Cisco Systems, Centene, Anthem Blue Cross, Teledyne Technologies, and Franklin Templeton. Companies headquartered in the city include Vision Service Plan Global, Health Net Federal Services and AMPAC Fine Chemicals. There are also 30,000 residential units proposed, planned or under construction.
According to Fryman, the third property listed for sale at the 99 Cents Only-anchored Zinfandel Crossings is a 6,755-square-foot multi-tenant retail pad building on 0.62 acres. The property is listed for sale at $3,845,000. The 100-percent-occupied building is located at the hard corner pad to the 99 Cents Only Stores and benefits from eight points of ingress/egress and three prominent monument signs. The five-tenant retail building features internet-resistant, service-based tenants: Jersey Mike's, Teriyaki Grill, Super Nails, California Check Cash and Donut King. Donut King has been a tenant there since 2000. Both Teriyaki King and Jersey Mike's signed new 10-year leases in 2018.
Zinfandel Train Station is located immediately adjacent to Zinfandel Crossings. This station is part of the Sacramento Regional Transit District Gold Line, with service to Downtown Sacramento, California State University, Sacramento, Gold River and Folsom. "This station's location is strategic in the overall plan of connecting residential communities to the employment hub of Rancho Cordova and driving customer traffic directly to the center," noted Asher.
About Hanley Investment Group
Hanley Investment Group Real Estate Advisors is a retail investment advisory firm with a $6+ billion transaction track record nationwide, who works closely with individual investors, lending institutions, developers, and institutional property owners in every facet of the transaction to ensure that the highest value is achieved. For more information, visit www.hanleyinvestment.com.
Media Contact
Company Name: Hanley Investment Group Real Estate Advisors
Contact Person: Kevin Fryman, Executive Vice President
Email: Send Email
Phone: 949.585.7674
Address:3500 E. Coast Highway, Suite 100
City: Corona del Mar
State: California
Country: United States
Website: http://www.hanleyinvestment.com/