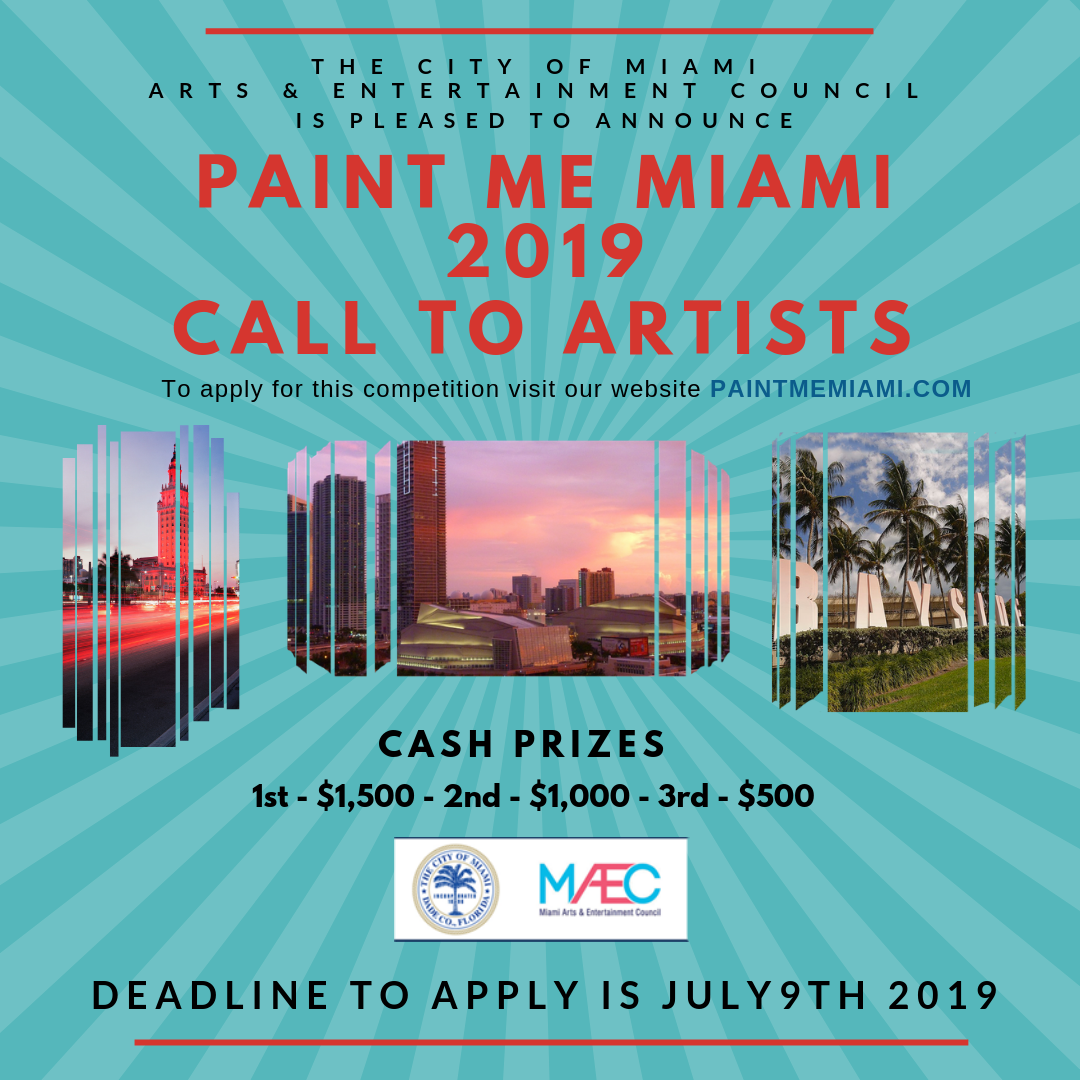 Deadline for submission is July 9th, 2019
MIAMI – June 25, 2019 – The Miami Arts & Entertainment Council (MAEC) invites talented Miami artists, art students, up-and-coming artists and art aficionados to participate in its 8th annual art competition, "Paint Me Miami."
"Paint Me Miami" is an open competition where all artists working in two-dimensional painting media are eligible to enter provided they meet the criteria. To conform to the spirit of the awards, all work must be original and completed within the last two years and must not have won any previous prize or award in any other art competition. The competition focuses on paintings that are inspired by the City of Miami. Works can be representational, abstract or figurative, according to the artist's vision of the City of Miami.
"The Miami Arts & Entertainment Council is proud to continue promoting arts and culture as a pivotal ingredient in Miami's growth as a dynamic international city that is a showcase for emerging artists as well as masters," added Mercedes Cisneros, member of the MAEC Board and founder of the "Paint Me Miami" Arts Competition.
For entry form and detailed requirements, visit www.paintmemiami.com . Winners will be announced during the award ceremony and exhibition on Friday, August 9th, 2019, from 6:30pm to 9:00pm at the Bakehouse Art Complex, located at 561 NW 32 Street, Miami, Florida. Admission to the event is free. The finalists & winners will continue to be exhibited in the gallery until August 16th, 2019. First Prize will include $1,500 and an award certificate. Second prize will include $1,000 and an award certificate, and third prize will include $ 500.00 and an award certificate. All finalists will receive an Award Certificate of Excellence.
About Miami Arts and Entertainment Council
The Miami Arts and Entertainment Council serves in an advisory capacity and makes recommendations to the city regarding endorsements and support of specific Miami art and entertainment special events, performances and productions. The Miami Arts and Entertainment Council helps determine whether the city should accept or acquire any specific art and seek public participation in all cultural events in the City of Miami. The council also serves as the city's official liaison with major arts and entertainment facilities and organizations to attract arts and entertainment programs to the City of Miami.
For information about the Miami Art and Entertainment Council visit www.miamigov.com/arts/ or email Miriam Flores, City of Miami Art & Entertainment Council, at [email protected] .
About The Bakehouse Arts Complex
Bakehouse envisions a world that supports and values artists and recognizes their ability to shape, reflect, and transform our world. Its mission is to address the need for affordable living and work spaces for artists in Miami's urban core. The Bakehouse Art Complex, a 501(c)(3) not-for-profit institution. Since its inception, the Bakehouse Art Complex has provided emerging and mid-career artists with the opportunity to creatively explore and develop their artistic endeavors. Unlike a museum or art gallery, a visitor may meet and artist while catching a rare glimpse into the creative process of our culturally diverse and talented community of 60 contemporary artists working across myriad media.
For information about the Bakehouse Arts Complex, please visit; www.bacfl.org .
Media Contact
Company Name: Paint Me Miami
Contact Person: Howard Miller
Email: Send Email
Phone: 3055730882
Address:3009 NE Quayside Lane
City: Miami
State: Florida
Country: United States
Website: http://www.paintmemiami.com/