Savassi Cleaning Services LLC is now able to provide commercial cleaning services and janitorial services for businesses in the greater Fort Lauderdale area.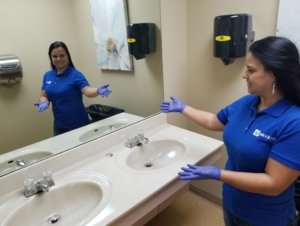 Boca Raton, FL – June 24, 2019 – Savassi Cleaning Services a well know name in the cleaning industry in South Florida aims to change the way that commercial cleaning services Fort Lauderdale and Janitorial Services Fort Lauderdale is delivered in the sunny South FL area.
Janitorial services are often viewed as a commodity. But they are so much more. Savassi's janitorial service is unique due to their depth of understanding of businesses individual needs, and their depth of experience upon which they have built best practices.
One thing that differentiates Savassi Cleaning services from big chain companies is that they will apply on-site management, and the respect they show to customers and employees create an environment that consistently exceed customers needs and special requests.
Leo, one of the owners of Savassi Cleaning says: "We consider each and every one of our clients as a family. And because my wife Sheila and I are involved directly in the business we are able to come up with innovation that defines all aspects of commercial cleaning quality."
All of Savassi's technicians are fully DBS checked and insured. This provides clients with peace of mind. The technicians are reliable and trained to the highest, professional standards by the owners.
Also able to offer office cleaning, commercial floor cleaning and medical janitorial services, this new service is a add up to the company's portfolio.
Sheila the other owner of Savassi Cleaning says: "We decided to add this type of service to our portfolio due to many clients' requests." "We trained and educated our technicians with the best education and processes there are out there."
Savassi Cleaning Services offers a 25% OFF to give all prospective clients the opportunity to trial this new service at a discounted price.
To find out more about the range of services Savassi Cleaning has to offer, you can visit our website at www.officecleaningfortlauderdale.com or call us in our direct line (561)410-3679
Location Info:
Savassi Cleaning Services LLC
22545 SW 66th Avenue suite #206, Boca Raton, FL 33428
(561)410-3679
Media Contact
Company Name: Savassi Cleaning Services LLC
Contact Person: Leo Candido
Email: Send Email
Phone: 5614103679
Country: United States
Website: https://www.officecleaningfortlauderdale.com/