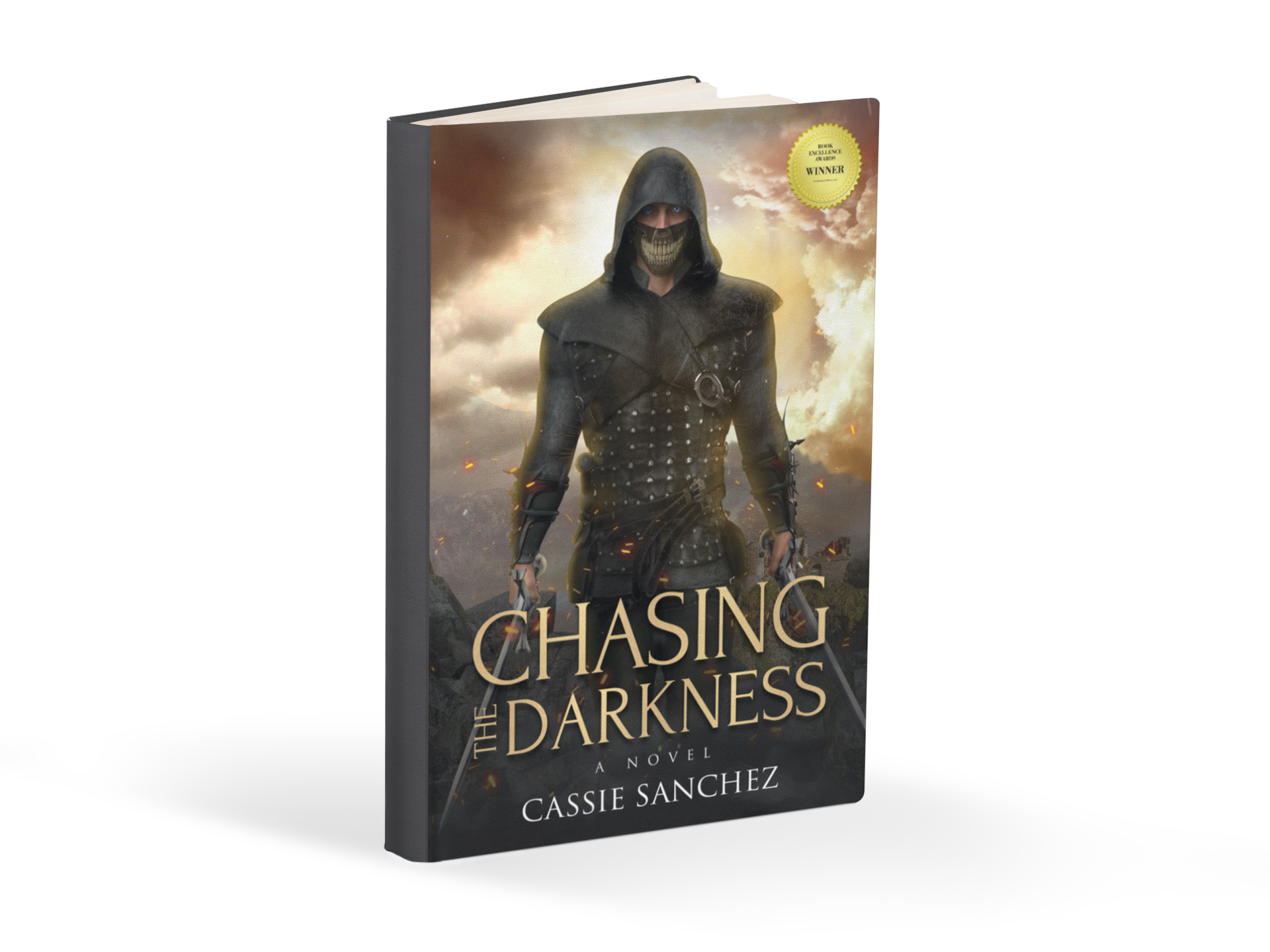 Chasing the Darkness by Cassie Sanchez is recognized for excellence in writing, design and overall market appeal.
Chasing the Darkness by Cassie Sanchez is a gripping romantic fantasy about an assassin obsessed with power and revenge, who will do whatever it takes to find the one who shattered his childhood. Magic, betrayal, and passion accompany Azrael, the Angel of Death, on a journey that will lead to destruction or redemption.
Chasing the Darkness was named a Winner in the Fantasy category of the 2022 Book Excellence Awards. The awards competition is dedicated to recognizing both independent and traditionally published authors and publishers for excellence in writing, design and overall market appeal in over 100 countries around the world.
"As a debut author, winning the Book Excellence Award felt wonderful and validated my writing and the world I created. I'm honored to have received this prestigious award," says author, Cassie Sanchez. As a winner of multiple book awards, Cassie is skilled at writing fast-paced fantasy adventure filled with magic, sword fights and love. "I wrote Chasing the Darkness as a way for readers to escape into a different world and time where magic exists. My goal is for readers not only to be entertained, but to ponder the darkness we all have inside of us and to not let our past define our future."
A must read in the romantic fantasy genre, the book explores themes of inescapable pain, undue suffering and the maxim that all of us are worthy and deserve a second chance. Fans of The Witcher and Assassin's Creed will be enthralled with a compelling cast and storyline that is relentlessly entertaining.
The book has received positive reviews from some of the most well-renowned authors, journalists, and reviewers around the world. "Readers who like stories about sword-and-sorcery fantasy worlds where the hero is deeply flawed and transforms from evil to good; where love is a new possibility, and redemption a driving purpose to life and justifying one's actions; and where physical form, magic, and the desire for a life of love sometimes overwhelms larger purposes will find Chasing the Darkness compelling…fantasy readers are in for a treat," wrote D. Donovan, a Senior Reviewer at the Midwest Book Review.
Chasing the Darkness is available for sale on Amazon, Barnes & Noble, Nook and other online bookstores. Readers can receive the first three chapters of Chasing the Darkness for free by joining Cassie's email newsletter at https://www.cassiesanchez.com/.
About the Author
Cassie Sanchez grew up in the Land of Enchantment, where getting lost in a fictitious world became a favorite pastime. As a wife and mother of two boys, her fascination for wonderment, superheroes, and fantasy evolved from entertainment to an obsession. She currently writes Fantasy for those who want to escape to a realm of magic, love, and the battle between good and evil. Chasing the Darkness, the first in a trilogy, is her debut novel and has won six awards. When Cassie isn't writing about magic, sword fights, and romance, she can be found reading, snuggled up with her two dogs, Gunner and Bullet.
Connect with Cassie:
Facebook: https://www.facebook.com/cassiesanchezauthor
Twitter: https://twitter.com/CSanchez_author
LinkedIn: https://www.linkedin.com/in/cassie-sanchez-2a7279234/
Instagram: https://www.instagram.com/cassiesanchezauthor/
YouTube: https://www.youtube.com/channel/UC1Ja8j-7rW0noJ67LWuZyig
Media Contact
Company Name: Author News Network
Contact Person: Media Relations
Email: Send Email
Country: United States
Website: authornewsnetwork.com