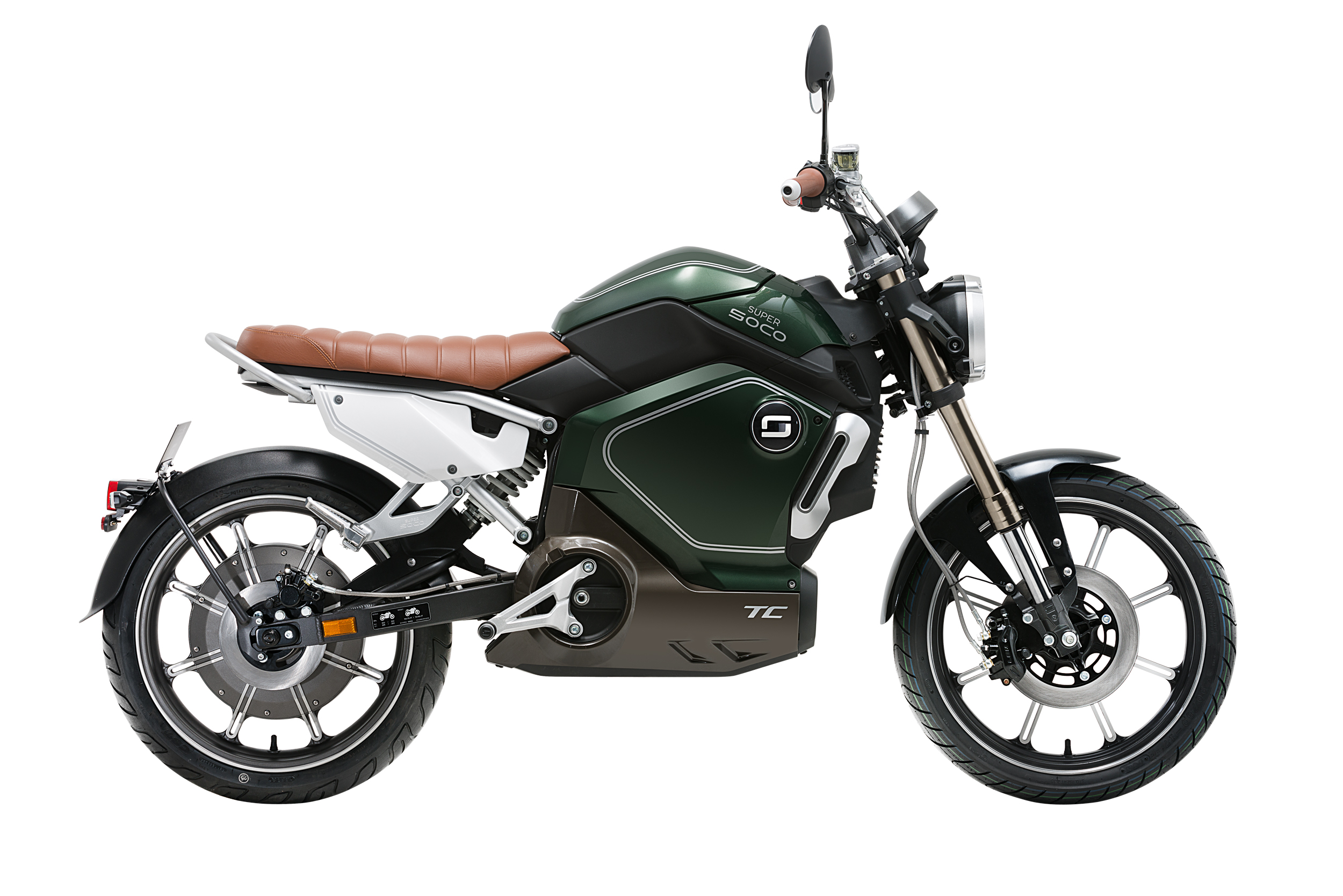 Vancouver, Canada – July 17, 2019 – Motorino e-bikes – today announced the addition of the immaculately designed, powerful electric motorcycle, the Motorino Super Soco TS and TC, to its electric bike fleet. The launch coincides with the Government of BC's efforts to get commuters out of their cars and double the number of trips by bike, scooter and public transit by 2030. Additional good news for
British Columbians is that all Motorino electric motorcycles are now eligible for the BC rebate of 35% of their retail value up to $2,000. See pluginbc.ca/suvi.
ABOUT
Europe's most popular, best-selling electric bike, the Super Soco is a collaborative project of corporations likes of BOSCH, PANASONIC and other European companies contributing not only to its immaculate design and outstanding performance but to its rigidity and durability as well. All this is guided by the Australian public company V-Moto with their state-of-the-art production facilities in Nanjing – China. The Super Soco bikes have been distributed for more than three years across Europe and have been recognized as the number one electric urban motorbike there. V-Moto was recently contracted by Ducati for production of their metro electric e-bike. With the recent contract signing with V-Moto, Motorino are the exclusive Canadian distributors of the Super Soco TS and TC. The company is also the first to introduce Super Soco electric ibikes to North America
BATTERY
A single battery can power the bike for 80 km on ECO mode of 50km/h and 60km of range at 70km/h speed. Dual battery doubles that range.
MOTOR
The 12" BOSCH motor rotor is the rear cast aluminum wheel itself and it has been developed as precisely as a Swiss watch. The rated power of the motor is 1500 watts, but it can effortlessly support a peak power of 3500 watts equivalent to five horsepower when accelerating or used on steep inclines. On full speed, it rolls back to 800W when used on flat terrain.
CONTROLLER
The heart of the bike–the controller–is encased in a one piece ribbed die-cast aluminum box for exceptional heat dissipation.
CHASSIS
The quality of the mechanical parts of the Super Soco TC is no less impressive than the quality of the electrical components.
SUSPENSION and COMFORT
Along with its impressive rigidity, Super Soco TC also comes with the comfort of exceptional suspension. The bike is supported by inverted 700mm long and 35mm wide motorcycle grade front shock absorbers. With 200mm travel distance strong torsion resistance, and an aggressively positioned angle, it provides a comfortable ride even on rough terrain.
LEGALITY
The max speed of Super Soco e-bikes is 70km/h and they are classified in Canada as Limited Speed Motorcycles (LSM). They can be legally used on any road except freeways. When registered as electric vehicles they pay only 25% of the parking fees on parking meters or park for free on green top meters.
The provincial BC government and CleanBC have released a new strategy to promote cleaner, more active transportation.
"Move. Commute. Connect.," is the theme of the strategy. The strategy's main goal is to double the percentage of trips taken with active transportation by 2030.
Currently, the percentage of trips made on a bicycle within BC is 2.5%. The plan includes a number of incentive programs to encourage active transportation. Although the rebates for some electric cars was recently reduced, the 35% rebate from their retail value towards the purchase of electric motorbikes has not changed. Electric motorbike commuters can also enjoy other advantages as free parking, almost zero maintenance and $0.30 battery charging a cost per 100km
The Motorino Super Soco TC is available for immediate sale online or at any Motorino dealership across Canada for C$4,900.00 before the government rebate More information at https://motorino.ca/
Watch us on YouTube https://www.youtube.com/channel/UCvTdKwvAhon48JobgxV2vtw
About the company
Motorino is a Vancouver based, Canadian-registered brand of electric bicycles, scooters and motorcycles, first introduced to the Canadian market in 2003. With almost 17 years of constant development and improvement, Motorino e-cycles have evolved into a very reliable and practical means of transportation and built a reputation for superior design, performance, quality and customer support along the way. The company experience and expertise in electric cycle industry has secure them the exclusive distribution of world-famous brands of electric bikes and motorcycles in Canada.
Media Contact
Company Name: Motorino
Contact Person: Steve Miloshev
Email: Send Email
Phone: 604-331-0555
Address:336 West 2nd Ave
City: Vancouver
State: BC, V5Y 1C8
Country: Canada
Website: https://motorino.ca/