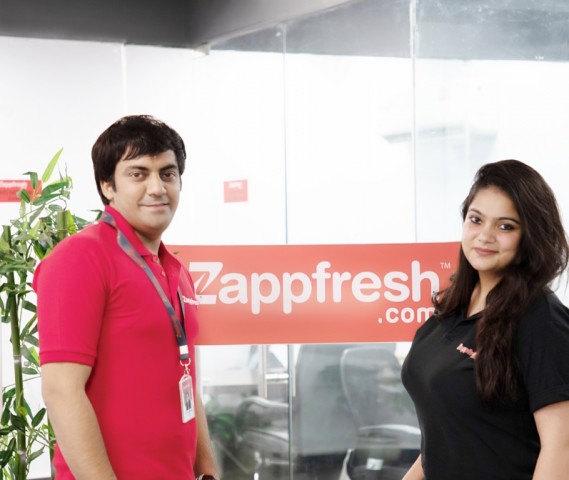 Started in 2015 by Shruti Gochhwal and Deepanshu Manchanda, the first online meat brand of India – Zappfresh delivers a complete 360 degree farm to fork experience to its customers.
Zappfresh is a leading meat brand in India that is based on a farm to fork model for fresh meats and seafood that starts right from working closely with farmers to temperature-controlled end delivery to the customer at their doorstep. They are redefining the way meats are consumed in India. The Globally accepted meat processing methods adopted by Zappfresh to ensure customer safety and product quality have contributed to building the first-ever full-stack meat brand of the country
Brief Overview:
Orders can be placed on Zappfresh website or iOS / Android App
Guaranteed Delivery at customer doorstep in 90 Minutes
Wide variety of Fresh Raw Chicken, Lamb, Goat, Fish, and Seafood
Vacuum Packed Meats for Safety and Hygiene
$120K Revenue in Year 1 to $10M Revenue in Year 4
Raised $4M from Investors
By offering high-quality chemical-free, 100% natural fresh meats, and seafood online, Zappfresh is bringing a revolutionary change in the meat industry and the way people consume meat in India. The company's vision is to organize one of the biggest unorganized segments in India.
The meat buying experience in India is very unappetizing owing to the fact that Indian butcher shops are unhygienic, dirty and sell inferior quality meats. The biggest problem is of lack of trust in quality in consumer minds.
The common misconception that India is majorly a Vegetarian country is a myth. 71% of Indians consume meats worth $35B every year and the industry is growing at a CAGR of 22% year on year owing to the economic growth, urban trends and raising awareness about the nutritional value of meats. However, 95% of the industry still continues to be addressed by the unorganized market.
While major food apps like Swiggy, Uber Eats and Zomato have provided a convenient way for people to order food anytime and anywhere, there isn't much that has been done specifically for the meat lovers. The hygiene conditions of where the meat products are sold are also one of the major concerns of the consumers in India. With an easily accessible online platform, the consumers won't have to settle for what's convenient but they can get what's actually fresh, hygienic and good for health. Zappfresh is making authentic and pure whole meats accessible to consumers in India.
Zappfresh works with high-quality farms where animals are kept in hygienic and suitable conditions. It brings fresh meats directly from the farms, bypassing all the local flea markets, wholesalers and butcher shops. They deliver all the products through a unique, end to end cold supply chain process that ensures consistent freshness from farm to table, without exposing the meats to any preservatives or water. Forget about the highly processed and chemical-laden meat from the local vendors as all the meat products by Zappfresh are free from any antibiotics, growth hormones and preservatives, which ensures maximum nutrition and best taste.
Today the biggest asset of the company is the supply chain they have built. Meat is one of the very few unbranded categories in the consumer grocery basket today and Zappfresh being the first meat brand of the country is tapping a huge opportunity. The value to the customer is clear – Quality, Transparency, Convenience at the right price.
Zappfresh guarantees same-day stock delivery within 90 Minutes of the order or on a prescribed schedule. With Zappfresh, the customers can stay assured that the meat on their table is coming from a healthy and humane environment high-quality farms and facilities. As of now, Zappfresh is available in seven cities across India including Delhi, Gurgaon, Noida, Greater Noida, Faridabad, Ghaziabad, Chandigarh, Mohali, and Panchkula.
Know more about Shruti Gochhwal, the Co-founder of Zappfresh on her LinkedIn profile.
Media Contact
Company Name: Zappfresh (DSM Fresh Foods Private Limited)
Contact Person: Shruti Gochhwal, Co Founder
Email: Send Email
Country: India
Website: www.zappfresh.com