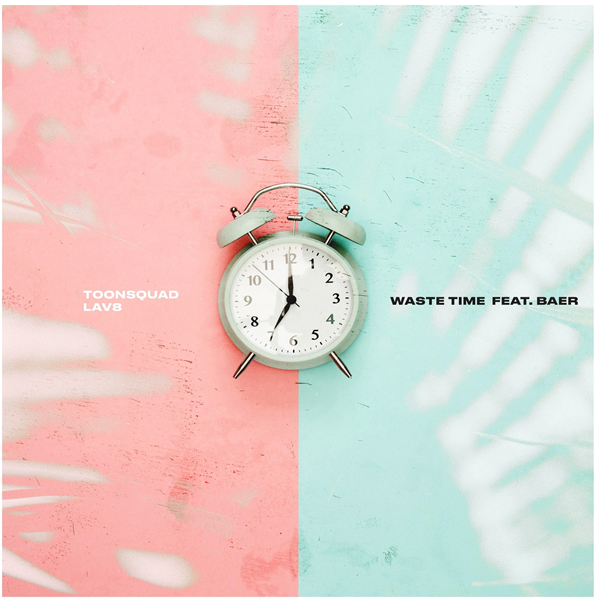 With vocal hooks and a strong melody, "Wasted Time" is a song ready for the mainstream.
"When ToonSquad sent me their original track, the first feelings I felt upon hearing it was how beautiful, slightly bittersweet and innocent it was. I just saw this picture of a pair of lovers dancing with each other in a burning room. Also, on some subconscious level, I was feeling that my boyfriend and I weren't spending as much intimate time together, being both so busy. That's when I wrote the line – "if we had 24 hours left, would you come and waste time with me?" – because that's the kind of presence I wanted from him. Like nothing else mattered besides kicking it and wasting time with me, even if time was limited. On a bigger scale though, it's really about going 100% for the people and things that you love, no matter the turnout or the crash." said BAER.
Supported by a number of artists and the top music blogs – including EDMSauce.com and many others – "Wasted Time" is a picture-esque dance single that music lovers will embrace.
About ToonSquad
Chris Crawford, known as ToonSquad, began producing at the age of 23. With releases on Strange Fruits, Chroma Records, Esydia, and Chill Trap, ToonSquad looks to provide an emotional experience for all of his listeners.
About LAV8
LAV8 "Frankie Stark" is an American DJ/producer from Erie, Pennsylvania. His style typically consists of future bass and a mix of dance pop.
About BAER
BAER is a multicultural Pop artist based in Los Angeles. Born in Taiwan and partially raised in Canada, BAER's music has a style that transcends cultural and stylistic boundaries. BAER left her home in Taiwan and moved to Los Angeles in pursuit of her dreams. She began working with notable vocal producer and songwriter David "DQ" Quiñones (Beyoncé, Jason Derulo, Nicki Minaj, etc) and soon turned her bedroom into a pop hit factory, making her own songs with friends and vocal producing herself. BAER's debut EP "Breathe the Same" was released in early 2016. The lead single "Breathe The Same" soon charted on the USA Viral 50 and peaked at #33. Her most recent singles "What Does It Matter" and "River" have been featured on Spotify's Fresh Finds Playlist. "WhatDoes It Matter" was also used in one of Khloe Kardashian's commercials. A few other playlists she has appeared on include New MusicFridayin multiple countries, Hits Don't Lie, NY Pop, among others. Aside from Spotify playlists, BAER has also been making the rounds on national radio. Her music and voice have been played on Sirius XM BPM, iHeartRadio (Evolution Radio), DashRadio, Glow Radio, amongst others. Notable music press on her include The DancingAstronaut, Acid Stag, EDM.com, EDM Sauce, Noiseporn, to name a few.
Get "Wasted Time" on Spotify here: https://open.spotify.com/track/5BGVAdhyJe03G0GoHcvk84
Media Contact
Company Name: Chroma Records
Contact Person: Karen
Email: Send Email
Phone: 714-758-5757
Address:2050 Newport Blvd.
City: Costa Mesa
State: CA, 92627
Country: United States
Website: https://chromarecords.com