Talented actor, Julien Caine, teams up with Kid Ink and Sethii Shmactt to drop new single titled 'Late Nate'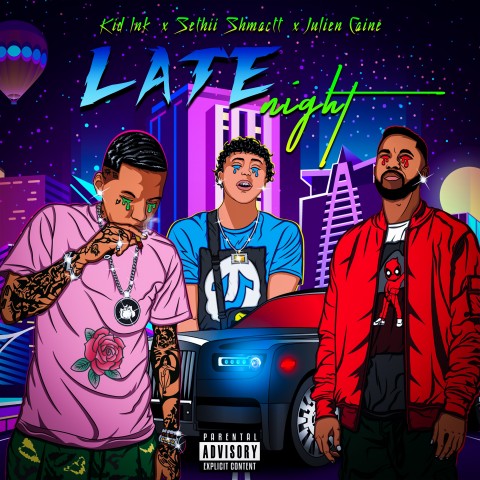 'Late Nate' is the latest music project from multifaceted entertainer, Julien Durant, popularly known as Julien Caine. The talented Canadian-American teamed up with the popular Kid Ink and Sethii Shmactt as the trio worked together during a layover in Vancouver to make 'Late Nate.' The single is a further reiteration of Julien Caine's creativity and desire to provide his fans across the globe with message-filled yet entertaining content.
The entertainment industry has without a doubt evolved over the years as the different stakeholders use their creativity and ingenuity to entertain millions of fans across the globe. One of such talents that is on his way to stardom in the music industry is Julien Caine. Julien Caine is known for his work as an actor, appearing in several motion pictures projects.
It was an unusual layover for Julien Caine and two of his friends, Kid Ink and Sethii Shmactt, as they connected in Vancouver. The fun-filled layover was more than just hitting the clubs and having a good time as it gave birth to the hit single that is currently making waves on digital platforms.
Julien Durant, with the stage name Julien Caine is a Canadian-American actor from Vancouver, BC. Over the years, the talented actor has appeared in several productions such as CW's The Flash and iZombie. He became particularly popular for television, commercials and music videos, including campaigns for Walmart, Canadian Tire, Dominos Pizza, Westin Hotel and Triple Five Soul. He has also featured in a number of campaigns as a model while also competing in powerlifting competitions and winning several gold medals in British Columbia.
Kid Ink, one of the trio that made 'Late Nate' is an American singer and record producer that has stood out in the rap game. Since the release of his debut independent album Up & Away in 2012, Kid Ink has continued to work himself into the mainstream of the music industry, working with the lies of Chris Brown and other such big names in the industry.
'Late Nate' is currently available on YouTube and other digital platforms for music lovers in different parts of the world.
More information about Julien Caine and his projects can be found on his website and CD Baby.
About Julien Caine
Julien Caine is a multitalented entertainer that has made a name for himself as an actor, model, and athlete. Durant is a student of the world renowned Actor's Foundry and the older brother of CFL football player Lemar Durant. Julien Durant was in an Old Spice Commercial and also did the voice-over in a Coca-Cola commercial and recently collaborated with Kid Ink and Sethii Shmactt to release his latest single titled 'Late Nate.'
Media Contact
Company Name: Julien Caine x Kid Ink x Sethii Shmactt
Contact Person: Julien Durant
Email: Send Email
Phone: +1 702 837 6666
Country: Canada
Website: http://Juliencaine.com