It's going to be a gas – 'WOODSTOCK OR BUST' – A blast from the past.
Los Angeles, CA – July 11, 2019 – It's all about the trip, man. Check out 'WOODSTOCK OR BUST' coming to a city near you this August!
From award-winning Writer/Director, Leslie Bloom (iTime Travel, Déja Vu, Bill Nye the Science Guy, MAMA EARTH), WOODSTOCK OR BUST is a feel-good nostalgic indie, starring Meg DeLacy (The Fosters) and Willow Shields (The Hunger Games) that time travels to 1969 – the Summer of Love.
Beginning early August, cool head, Teddy van Ee (Captain Fantastic) and WOODSTOCK OR BUST will adventure on a cool cross-country road trip! Stopping at your local radio stations to discuss the film, play the soundtrack and will feature live performances from Michele Curtis Purvance, singing original songs from the soundtrack including, 'Northern Lights' and 'Marianne'. A percentage of the proceeds will be donated to the Teen Cancer America charity, founded by Rodger Daltery and Pete Townshend of "The Who".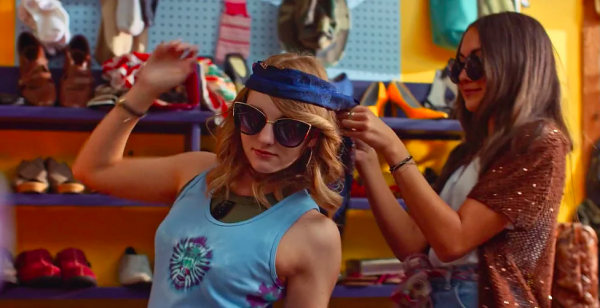 WOODSTOCK OR BUST follows two 17-year-old singer/songwriters from the West Coast, Lorian (Willow Shields) and Meryl (Meg DeLacy), who seize the once-in-a-lifetime chance to travel cross-country to show their music at New York's world famous Woodstock Music & Art Fair. Embarking on a cut this three-day road trip in a '65 Mustang convertible heading East, the teens defy all odds, including their parents and better judgment, concluding in a road trip that will change their lives forever – full of self discovery, life-changing love, music and friendship.
Produced by Big Film Kids and co-written by Judi Blaze, WOODSTOCK OR BUST has racked up several accolades, including three wins at the Los Angeles Film Festival 2019 (Best Picture, Best Editing, Best Cinematography) and two at the Artemis Women in Action Film Festival (Best Feature Pro-Action, Best Actress).
WOODSTOCK OR BUST will road trip to Seattle, Chicago, Oklahoma City, Albuquerque, Montana, Ohio, Minneapolis, Indianapolis, St. Louis, Los Angeles, Sacramento, Las Vegas, Portland and will have a space in the "Writer's Tent" of Bethel, NY's Woodstock Festival (Aug. 16-18). We're stoked to see you there!
If you see the WOODSTOCK OR BUST car, make sure to post and tag #WOODSTOCKORBUSTMOVIE and to catch them in your city, please contact [email protected].
Watch the groovin' trailer for WOODSTOCK OR BUST here: https://vimeo.com/346728836.
Alongside Willow Shields, Meg DeLacy (upcoming series Stargirl) and Teddy van Ee, WOODSTOCK OR BUST stars Corey Brunish (Coup de Cinema), Elijah Stevenson (Cam, Everything Sucks!), four-time award winner and nominated, Rachelle Henry (Defining Moments, Missing, Grifters) and Christopher Kozak (Never Let Me Go, Like Crazy).
For more information, please visit: https://www.woodstockorbustmovie.com/.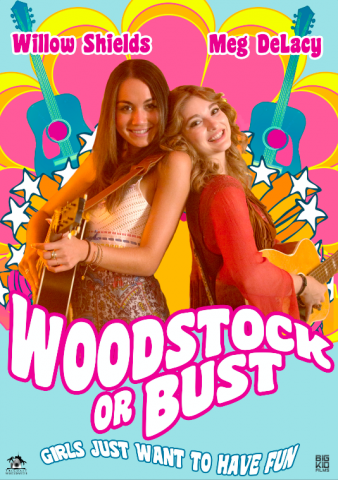 WOODSTOCK OR BUST (2018, 90 min.) Directed and written by: Leslie Bloom. Co-writer: Judi Blaze. Produced by: Leslie Bloom, Martin Wiley. Associate Producer: Sandra Doolittle. Edited by: Zachary Linkow. Original score: Blair Borland. Music: Michelle Curtis Purvance. Director of Photography: Israel Arias. USA, English. Big Kid Films, TriCoast Entertainment.
Produced by: Big Film Kids: Producing films for an underserved teen population with positive messages.
About TriCoast Entertainment:
TriCoast Entertainment is a premium Domestic Distributor, representing the best of US and international films: in theaters, on VOD, on DVD and TV. Sister company to TriCoast Worldwide and TriCoast Studios, the company is located at the TriCoast Studio facility in Culver City, Los Angeles.
Founded by: Strathford Hamilton and Marcy Levitas Hamilton.
Media Contact
Company Name: TriCoast Entertainment
Contact Person: Jenna Wilen
Email: Send Email
Phone: 3104587707
Address:11124 Washington Blvd.
City: Culver City
State: California
Country: United States
Website: http://www.tricoastworldwide.com