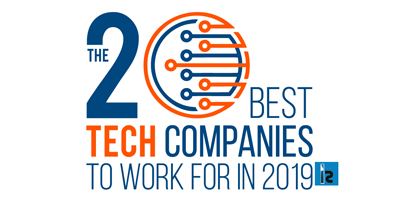 Trisotech is recognized as a global leader that is staying true to its roots
Montreal, Canada – July 10th, 2019 – Trisotech (http://www.trisotech.com) today announced that Insights Success Magazine has named it one of the "20 Best Tech Companies to Work for in 2019". Insights Success Magazine is a digital platform that focuses on emerging and fast-growing companies, highlighting those currently disrupting their industries.
Trisotech is still led by its original core management team that "contributes decades of experience and expertise ranging from military leadership and top-notch research and development, professional sales, and marketing," Insights Success Magazine writes.
The Magazine placed the company on its list of most favorable workplaces for this year in recognition of Trisotech's culture of appreciating the invaluable contributions of its employees to corporate success, remarking that "most companies think about all the technicalities, but forget to show gratitude to the people who make their success come to life."
The article highlights the enriching culture of continuous learning at Trisotech, which provides the tools and training for employees to surmount challenges at the workplace. It identifies "proximity to its employees" as the company's most essential attribute that allows it to build strong and effective teams, and "proximity to its clients" as a key strategy for delivering value to its customers. Both strategies have allowed the company to compete favorably since its inception, despite initially being a small player in its industry.
The article highlights several ways the company promotes a healthy home-life balance in employees which include flexible working hours, remote work enabled by an instant messaging application for seamless communication, and an "open-door philosophy to promote communication on all levels."
Quoting one of the three managing partners and co-owner at Trisotech, Martin Laflamme, the wellbeing and personal growth of employees are "front and center in our minds at all times," as the company believes it should work just as hard for its employees as they do for it.
About Trisotech
Trisotech is a global leader in digital enterprise transformation solutions, offering innovative and easy-to-use software tools that allow customers to visualize, innovate, transform and improve their digital enterprise processes and business decisions. Trisotech customers use The Digital Enterprise Suite to provide new and revolutionary ways for their knowledge workers to collaborate and succeed in an increasingly global, connected and competitive world. Trisotech products are providing digital transformation help to financial, healthcare, agriculture, manufacturing, insurance, government, and many other types of organizations.
Trisotech is a privately held company.
Website: http://www.trisotech.com
Media Contact
Company Name: Trisotech
Contact Person: Jonathan Lecuyer
Email: Send Email
Phone: 15149906639 x501
Address:3100 Boulevard de la Cote-Vertu, Suite 420
City: Montreal
State: QC
Country: Canada
Website: Trisotech.com