Students in flight school who need help with their flight exams should look no further than Flash Aviation. Flash Aviation is an ecommerce website that also has an extensive blog resource of aviation knowledge. It provides the best aviation flash cards to help flight students with last minute FAA cramming to remember the facts in the shortest amount of time.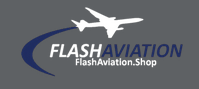 "With Flash Aviation, students can get more, pay less, and save money for what really matters – flying. Instead of spending hundreds of dollars on an in-person ground school, one can get all the knowledge they need through Flash Aviation flash card products," said Darin Duncan, CEO of Flash Aviation. The 4″x6″ flash cards are printed in vibrant colors on durable cardstock. They are a simple, yet comprehensive tool students need to pass their FAA written exam, brush up on their rusty flying skills, or prepare for their flight review.
Students can really benefit from testing themselves as they study by using something as simple as flash cards. Flash cards are one of the classic study tools and for good reason – they promote studying through active recall, which is one of the practices through which people's brains learn most effectively. The key is to not drop a flashcard once a student feels they have mastered the material. Keep it as part of the rotation and keep practicing retrieval of that information.
Flash Aviation flash cards' helpful hints and key ideas are broken down to their simplest forms, helping one to become a better, smarter pilot. Drawn from official FAA sources and using FAA examples taken right from the exam, the flashcards cover every subject tested on the FAA written exam.
Traditional textbooks are not for everybody. Designed by pilots and for pilots, Flash Aviation flash cards truly work.
At Flash Aviation, their goal is not merely to help students pass the necessary exams, but to assist them in being fully prepared for almost all typical flight situations. This high quality and cost-efficient bundle goes above and beyond what is tested and provides students with the knowledge they need to become a safer and more efficient pilot.
For more information about Flash Aviation Flash Cards, please visit: https://flashaviation.shop/
Media Contact
Company Name: Flash Aviation
Contact Person: Ken K.
Email: Send Email
Country: United States
Website: https://flashaviation.shop/