The hair loss solution company has been serving clients needs for 25 years.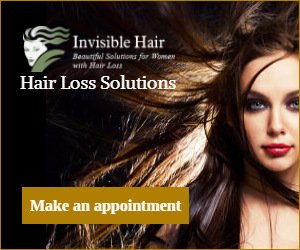 Invisible Hair is celebrating 25 years of helping women with their hair loss by providing solutions. According to the American Academy of Dermatology, 40% of women will have visible hair loss by the time they are 40 years old. This can be due to hormonal changes, medical conditions, hereditary, stress or other. The emotional toll caused by hair loss in women can directly affect a woman's physical health compared to a man's where it is considered more acceptable for them to go through.
In the 25 years Invisible Hair has been around, they have the latest and most up to date solutions for women's hair loss. Their solutions range from wigs and extensions to conditioning and laser hair therapy. They work with women who have both partial and complete hair loss. For chemotherapy or Alopecia patients, a cranial prosthesis is designed and colored to match any shade. These prostheses can be customized and delivered in one to three days whereas chemo wigs from other sources can often take weeks. The contoured fitted medical wig allows for more comfort, smooth against the scalp, making them feel as if they are wearing their own hair. They feature an invisible lace-front hairline which are undetectable. Invisible Hair's extensions are patented. It was invented for baby fine hair and can be attached to the bare scalp. It too, is virtually undetectable.
Invisible Hair also offers the latest in laser hair therapy. Over 90% of clinical study participants experienced significant hair growth over a six month period. The laser band is FDA cleared. Reports of strengthening and thickening hair, speeding hair growth and reversing thinning hair have all been experienced with the use of the band.
"With our hair solutions, you can do anything, even swim", says Dawn of Invisible Hair. "We have a variety of solutions, some even patented, that would work for all types of hair loss, no matter how unique or challenging. All of our hair replacement specialists are trained extensively".
Invisible Hair is located in North San Diego in the city of Vista. They offer other hair replenishment services and specialize in custom color and color matching, including working with existing hair pieces. Their methods are doctor recommended.
For more information, or to schedule a free, private consultation, please call (760) 727-9770 or go to:
Media Contact
Company Name: Local Blitz PR
Contact Person: Jane Darcy
Email: Send Email
Phone: 8587712040
Country: United States
Website: https://localblitzpr.com