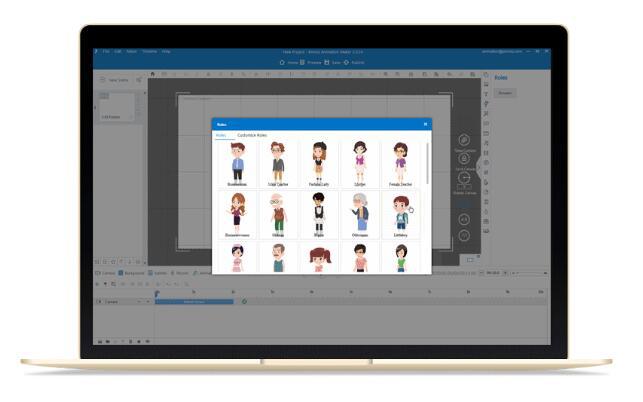 The recently released YouTube intro maker has upgraded features that help users amaze their audiences with customized intro videos.
Animiz is proud to announce the launch of the YouTube intro maker for video creation. The YouTube intro maker is an incredible tool that takes all the work out of creating YouTube intro videos. Now users can amaze their audiences using the upgraded features provided by the YouTube intro maker.
Animiz has made it easier for users to show off their logos, announce their sales, their gaming channels, their social media channels, or anything they need in order to create catchy YouTube intro videos. They have a library of upgraded intro video assets from which users can choose video templates, images, built-in roles, music, camera effects, sounds, and many other features to make stunning YouTube intro videos. They also personalize their intro videos with their own text, colors, images, logos, and more.
"We developed the YouTube intro maker to help users set the tone for their brands and connect with their audiences," said Jerry Fong, Designer of Animiz. "Our release is part of our expanding approach to video creation, where we give our clients different angles from which they can evoke the emotions of viewers and transform them into loyal customers. YouTube intro videos can bring their projects to life and humanize their brands."
In a matter of minutes, users can design free YouTube intro videos with customized features that represent their brands. Once they register on the platform, users get full control of their projects. They can enhance their videos with rich content that provides education, awareness, and persuasion to make audiences experience their brands better and understand how these brands can solve their pain points.
"We strive to provide the best-of-class software, and our YouTube intro video maker is not an exception," continued Jerry Fong. "Our objective is to empower users with tools to design exemplary intro videos that will establish trust, build confidence, and inspire curiosity in their audiences to make them take action. We are honored to leverage our expertise to empower users to create strategies with great impact on their video marketing efforts."
Animiz is driving to build the largest community of video marketing professionals in the world. A place where individuals and enterprises can rely on for the best tools for designing, publishing, and sharing their projects in order to promote their brands and increase conversions. Committed to making a platform where people can take advantage of free tools for video creation, Animiz continues to amaze their clients with new and upgraded software that makes the process of creating exhilarating videos even easier.
About Animiz
Animiz is an industry leader in software development, giving enterprises and marketers a free online platform to connect with prospective clients. The company enables registered users to design videos for business promotion, marketing, education, and much more. For more information, please visit http://animiz.com.
Media Contact
Company Name: Animiz
Contact Person: Jerry Zhang
Email: Send Email
Phone: +86 020-61972665
Country: China
Website: http://animiz.com