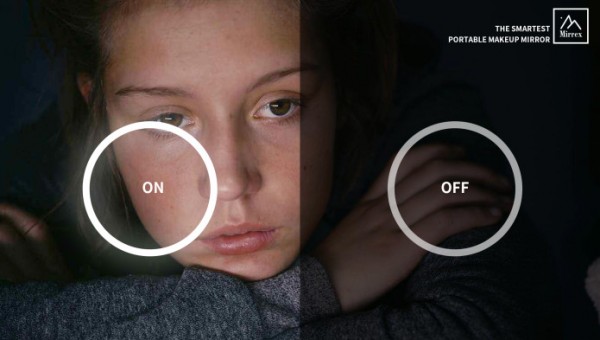 Mirrex is a brand new and innovative smart personal mirror that can create the ideal lighting for makeup, take a selfie and more. The product launched on the crowdfunding platform Indiegogo.com is here to revolutionize the beauty industry by providing a brand new way of doing makeup anywhere and anytime. It is the world's first smart personal makeup mirror that can take a selfie.
Small personal mirrors are being used for makeup for several years but they do have their own limitations. Even the expert makeup artists know the struggle of putting on makeup in bad lighting and face situations like uneven eyeliner, washed out skin, unblended foundation, overdone blush, and overly heavy contouring-All because the lighting was not so ideal. This is when Mirrex comes into light (quite literally!) that creates the best light for doing makeup. Is equipped with touch sensor control and is smaller than your phone. It features ultra-lightweight design, with ultra-clarity glass and ABS plastic body. In addition, it comes with a selfie stand to take the best selfies. It's a smart mirror that can wirelessly connect to the user's phone and seamlessly fits in pocket or purse.
Mirrex is designed for those who love to wear makeup and want a flawless look. It allows the users to see the details so that they can do makeup with precision. If the details like winged eyeliner, lipstick outline, mascara and foundation blending are done right, the makeup as a whole will look perfect. With this smart mirror, the user will be ready to do a nice touch makeup or even the whole makeup, anywhere and anytime. The mirror comes with a stand so no more need for a buddy to hold the mirror for you or finding a bathroom with good lighting.
In short, Mirrex comes with the patent pending Angel Lux Light that provides professional studio-like lighting effects, touch sensor control, adjustable brightness control, a selfie stand, a scratch-proof surface, and an ergonomic design along with QuickCharge wireless charging for an ultimate makeup experience. To take an amazing selfie, just set tap the mirror twice to turn the light on and slide the surface to adjust the brightness as per your environment.
Mirrex aims to raise an amount of $50,000 USD on Indiegogo, to cover the cost of its production and marketing. The backers have a chance to pre-order the smart mirror by at a Super Early Bird price of $46 from Indiegogo.com.
Media Contact
Company Name: Arista Global LLC
Contact Person: Mirrex
Email: Send Email
Country: United States
Website: www.mirrex.store