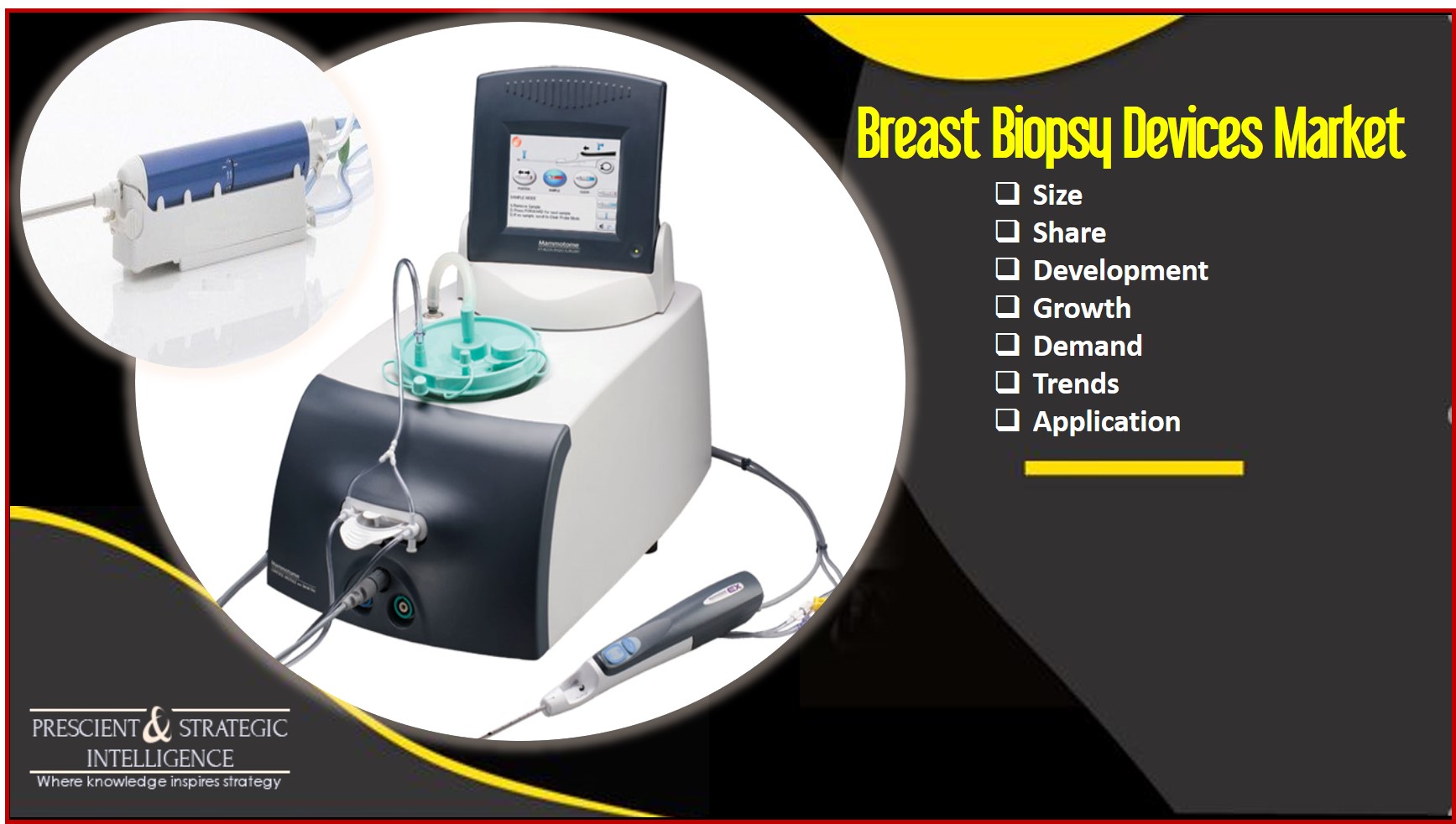 The growing population of aging women, surging prevalence of breast cancer, rising demand for minimally invasive surgeries, availability of technologically advanced breast imaging equipment, and rising number of breast cancer screening programs are contributing to the breast biopsy devices market growth. The sale of such devices and equipment generated a revenue of $761.2 million in 2017, which is expected to grow at an 11.1% CAGR during the forecast period (2018–2023).
Liquid biopsies are trending in the breast biopsy devices market, as these are a low-risk and non-invasive procedure, used in genome profiling to identify cancer-specific biomarkers in the blood. It is also used for routine monitoring of the effects of treatment. Liquid biopsy requires a blood sample, which contains the DNA of dead cancer cells. The blood sample is centrifuged, and plasma is collected, which is then used for tumor DNA analysis. The biggest benefit of this diagnostic procedure is its ability to detect treatment resistance and disease progression way earlier than imaging scans.
The rising prevalence of breast cancer is one of major factors driving the market.It is the most common type of cancer that affects women across the globe. About 1.7 million new breast cancer cases were diagnosed in 2012. As reported by the National Cancer Institute, an estimated 3,327,552 women in the U.S. were living with breast cancer in 2014. According to World Cancer Research Fund International, Belgium had the highest breast cancer burden, followed by Denmark, and France.
Request to Get the Sample Pages at: https://www.psmarketresearch.com/market-analysis/breast-biopsy-devices-market/report-sample
As awareness regarding breast cancer is increasing, the breast biopsy devices market is also witnessing growth. The rising number of breast cancer cases have compelled the governments of numerous developed and developing nations to take initiatives in sensitizing people about it. For instance, the National Institute of Public Health and the Environment under the Dutch Ministry of Health, Welfare and Sport carries out a National Breast Cancer Screening Programme, which centers around women of 50–75 years of age, who are invited for a mammogram every two years.
Another contributing factor to the breast biopsy devices market growth is the growing popularity of minimally invasive surgeries. The important minimally invasive procedures are image-guided needle biopsy and vacuum-assisted breast biopsy, which are being used by many healthcare service providers for effective breast cancer diagnosis. For instance, the Hologic Affirm Prone biopsy system, the latest technology for breast cancer diagnosis, was installed in a U.S. hospital — Palmetto Health Tuomey — in March 2017. It helps in the collection of tissue samples from an abnormal breast, reducing the need for surgical biopsies.
Make Enquiry Before Buying the Report: https://www.psmarketresearch.com/send-enquiry?enquiry-url=breast-biopsy-devices-market
The segments of the breast biopsy devices market are region, product, end-user, procedure type, and imaging modality. The imaging modality segment is subdivided into computed tomography (CT), ultrasound, magnetic resonance imaging (MRI), and mammography-guided stereotactic biopsy. The fastest growing category during the forecast period is expected to be ultrasound-guided biopsy, as it is safer than other technologies because of no involvement of ionizing radiation.
Owing to high healthcare expenditure, expanding private healthcare sector, economic growth, and rising aging population, North America was the largest breast biopsy devices market during the historical period (2013–2017). Additionally, the increasing per capita income and growing number of newly developed biopsy devices being approved by the U.S. Food and Drug Administration are other influential factors driving the growth of the market for breast biopsy devices in this region.
Therefore, the market is slated to advance in the forecast period at a healthy pace.
Media Contact
Company Name: P&S Intelligence
Contact Person: Abhishek
Email: Send Email
Phone: +1-347-960-6455
Country: United States
Website: https://www.psmarketresearch.com/market-analysis/breast-biopsy-devices-market