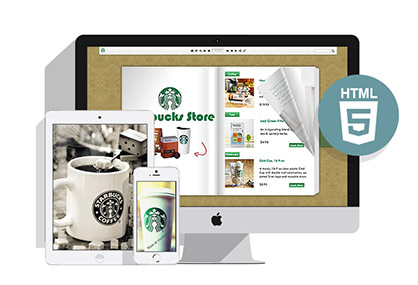 FlipHTML5, a leading client-centered software development company, is launching a flipping book tool with various templates. This flipping book tool is more equipped for creating more realistic and breathtaking responsive flipping books.
FlipHTML5, one of the global leaders in client-centered software development, recently launched a flipping book tool with various templates. The tool is meant to ensure clients are able to create more realistic and breathtaking responsive flipping books, which are flawless and perfect for their audiences. More templates have been added to the new version of the tool to ensure users have more template options to choose from when using the tool.
Templates find use among users of FlipHTML5 flipping book tool because it allows them to produce professional flipping books without bordering about numerous configurations. In the words of Anna Lee, Designer of FlipHTML5, "Starting to design a flipping book from scratch can take our clients a lot of time, especially those who are not conversant with coding. Thus, we have added several templates that give our clients' flipping books the professional look their readers will like. The company researched the templates well before adding them to the tool to save our clients' time and effort". He also added that the 10+ templates are fully customizable by users who wish to personalize or adapt them.
FlipHTML5 flipping book tool has other outstanding features that make it one of the most sought-after tools for creating flipping books. One such feature is the capability to add multimedia to flipping books. The exceptional flipping book tool allows users to add links, images, audio, and videos to flipping books, and they can do all these via the powerful online editor. However, clients are also able to download the software and install it on their desktop if they prefer to use the web platform online.
Apart from the several templates that have been added to the flipping book tool, Anna said that FlipHTML5 is concerned about the marketing of their clients' brands. "We have included the option of adding a custom domain for clients' books, ensuring our clients have access to brand ownership instead of using that of FlipHTML5". Users of the flipping book tool also have access to free online hosting services that they can use in publishing their books online. According to Anna, clients do not necessarily need a website to be able to publish their flipping books online.
About FlipHTML5
FlipHTML5 is a leading company that has continuously provided exceptional software solutions in the digital niche. For more information, please visit http://fliphtml5.com.
Media Contact
Company Name: FlipHTML5 Software Co., Ltd.
Contact Person: Lailie Tan
Email: Send Email
Phone: 86 020-61972665
Address:G/F, Far East Consortium Building, 23 Des Voeux Road, Central
Country: HongKong
Website: http://fliphtml5.com/