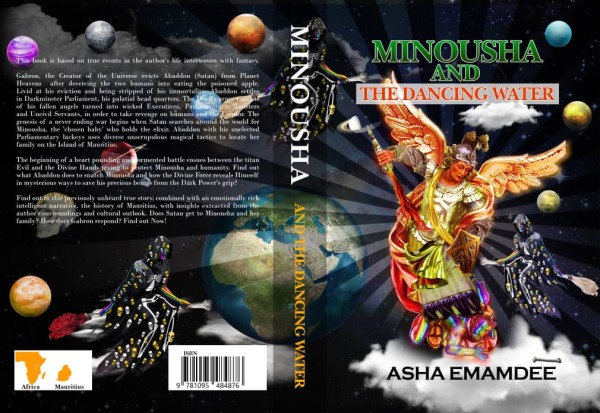 Do you wonder where sorrow and pain come from? Are you bothered about your sorrows? Do you think they will ever end? The world is currently living in hostility with lots of strife jealousy and pain. Many persons have tried to get the answer to this question, but they have not.
There are lots of sad situations around, broken marriages, wars, and rumors of wars, organized killings, and constant increase in crime rate. All of these are constantly on the increase, and the only way to reduce the chances of sharing a lot from this pain is by knowing how it originated.
Asha Emamdee has through her new book, answered the all-important question of where does evil come from? How did it come? And why do we have evil around? All of these answers are seen in her new book titled Minousha and the Dancing Water.
About the Book
In the story, which is a true life story, the Creator removes Abaddon from the Planet where he stays, Heaven. This was because he deceived two humans into eating two apples that were poisoned and contained elements that would forever make their life miserable.
Abaddon decided to punish the humans because he had been stripped of his immortality. He stays in the Dark side of the planet and settles in Darkminster parliament, his new headquarters. He had lots of angels and ministers that were ready to take revenge on Creator and humans.
Abaddon was also on the lookout for a special baby that had the elixir that would save humans from the corrupted apple; he was able to locate the baby's family on the island of Mauritius. The battle began, and the evil forces grew as they tried to capture and kill this special baby.
Find out in this unheard story that is ridden with terror what happens to this special child. Was Abaddon able to capture the child? Was the child killed? Did the child save humans?
This intelligent and real story holds readers to its grip, but then the shocking part of this brilliant piece still lies in the fact that it is both true and thrilling. Find out Now!
The book is now out on Amazon where it is available both in eBook and paperback format. See link below for copies of Minousha and the Dancing Water and her website: Minousha.com.
About the Author
The author, Aisha Emamdee is from a rich cultural background, she narrates the story from the point of all the hostilities she had passed through; she is from a family where her mother took her life, then her father died a pretty slow and painful death after he watched his wife he loved from his youth kill herself.
Aisha later left her country where she was born Mauritius to live in the UK, where she stayed with her unsupportive aunt and uncle. She later ran away and married an addict. After being a victim of several assaults, she ran away to protect herself. Click here to order for the eBook format
Click here to buy the color and here for black and white copy.
Media Contact
Company Name: Minousha
Contact Person: Ezekiel Efeobhokhan
Email: Send Email
Phone: +2348024994798
Country: Nigeria
Website: https://www.minousha.com