The founder and president of Bator Training & Consulting, Inc. (BTC) has signed a book deal with T & S Publishing, LP and he will be on the spotlight in the looming book "Exceed the Bar" which will be available on Amazon in Fall 2019.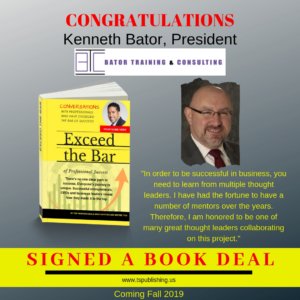 The business trainer and consultant who has nearly twenty years of experience in his field has over the years helped organizations to grow their business. As a service-based enterprise, his priority is to help organizations create environments where employees actually want to come to work and customers want to keep coming back! He came up with the formula B+C+S which stands for Brand, Culture and Strategy which is aimed at selling a company's brand and generating income.
He also hosts and produces two podcasts "Beyond the Call for law enforcement professionals" and "Cool Culture Corner for service-based businesses" as well as a YouTube show – "Branding the Experience". He has also authored two books entitled "The Formula for Business Success = B+C+S" and "The Pocket Guide to Strategic Planning". He is an expert in many professional fields like; strategic planning, branding, culture enhancement/employee engagement, customer/Member service training, sales training, team building, marketing, business development and public speaking seminars which aims at growing your business.
A lot of entrepreneurs and business owners have spent a fortune on training, seminars and master classes, with the aim of using the acquired knowledge to grow their businesses but unfortunately, very few of these workshops actually enlighten them on the challenges they are going to face in the business world and how to overcome them. This new book Exceed the Bar is designed to fill that gap in training and knowledge. The book will feature conversations with professionals that have achieved success, providing some insight on how they beat the odds. It offers readers valuable and realistic business suggestions on how to; manage a business including career transitions and challenges, balance business and personal life, overcome start-up business defies and legal factors you should know about your business. Get true-life stories, real experiences, tested ideas, tried and genuine business solutions so you too can exceed the bar.
Kenneth's aims at growing businesses which he has effectively done successfully since he started his career and he urges small to medium-sized businesses to have business mentors and solicit new strategies of growing their businesses.
Kenneth Bator can be reached through the following addresses:
Email: [email protected]
Website URL: www.btcinc.net
Facebook Link: www.facebook.com/BTCINC/
LinkedIn Link: www.linkedin.com/in/kenbator
Twitter Link: twitter.com/kbator
YouTube Channel: www.youtube.com/channel/UCRPrQYxHtItbr6feemsQnEg
About T&S Publishing, LP
T&S Publishing, LP, is a boutique media and book publishing agency with a mission to help thousands of lesser-known entrepreneurs, business owners, and professionals become sought-after subject matter experts in their fields. We position them as recognized authorities that stand out rather than continue to be the best-kept secrets in their industries. We accomplish this by having them participate in strategic positioning campaigns that include cause marketing, collaborative book projects, being featured in national media, garnering celebrity-like status, and then teaching them to leverage all of that notoriety across social media platforms to quickly elevate their brand. We offer what we call 'authority books' and a unique publishing process that enables our clients to talk their book and eliminate the need to be a writer. We specialize in single-author collaborative books with other top professionals.
For more information, please visit our website: www.tspublishing.us
Media Contact
Company Name: Bator Training & Consulting, Inc.
Contact Person: Kenneth Bator
Email: Send Email
Phone: (714) 681?2821
Country: United States
Website: http://www.btcinc.net