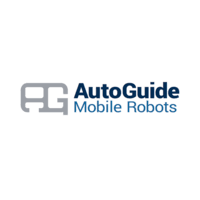 AutoGuide Mobile Robots named Van Garrett Director of Sales and Marketing. Garrett brings twenty-five years of experience in industrial automation, robotics, and distribution channel sales. Most recently he served as Sales Director for SMC's robotic market segment where he revitalized SMC's product offering for the Robot industry.
Rob Sullivan, CEO of the company noted, "We are delighted to welcome Van to our leadership team. He brings a dynamic approach which aligns with the AutoGuide core value propositions."
Garrett shared, "I am excited about joining AutoGuide Mobile Robots' team and working with great people. The most innovative product in a fast-growing industry makes this an exceptional opportunity."
Previously, Garrett was a founder of UReserv, an OEM table reservations system for restaurants, President and Founder of New England Automation Technologies, Sales Manager for Action Automation a distributor of state-of-the-art automation technology products, and Senior Sales Engineer for Sprague Air Controls.
Garrett earned a Master's Degree In Technical Management and earned his undergraduate degree from Wentworth institute of Technology in Mechanical Engineering.
About AutoGuide Mobile Robots:
AutoGuide Mobile Robots (http://www.agmobilerobots.com/) connects leaders and innovators in the fast-growing material handling technology sector by sharing ideas and promoting advancements in robotics and automation. Rob Sullivan, CEO of AutoGuide Mobile Robots leads a team from the company's new R&D facility in Chelmsford, MA as well as their recently expanded manufacturing facility co-located with system integration sister company Heartland Automation in Georgetown, KY.
The AutoGuide Mobile Robot team exceeds customers' needs and expectations by providing superior service as the worldwide leader in advanced technology Mobile Robots. Offering a lean manufacturing value proposition of reducing costs by eliminating transport inefficiencies in factory and warehouse operations by improving worker and product safety, reallocating labor resources to more value-add activities, and increasing delivery throughput and consistency, AutoGuide Mobile Robots provides the shortest lead times and most rapid ROI in the autonomous transportation market.
Proudly Made in America, follow AutoGuide Mobile Robots on Twitter @AGMobileRobots.
Media Contact
Company Name: AutoGuide Mobile Robots
Contact Person: Van Garrett
Email: Send Email
Phone: (603) 718-9837
Address:2 Omni Way
City: Chelmsford
State: MA
Country: United States
Website: www.agmobilerobots.com