"The animation in 'VIOLENCE VOYAGER' is mesmerizing," wrote Roger Ebert.
Los Angeles, CA – June 29, 2019 – 'VIOLENCE VOYAGER' will screen in Beverly Hills, Berkeley, Philadelphia and St. Louis from July 5-12.
From Writer/Director, Ujicha (The Burning Buddha Man, Fool Japan: The ABCs of Tetsudon), VIOLENCE VOYAGER (aka 'Baiorensu boijâ') is his latest feature incorporating the unique 2-D animation technique, "gekimation", to tell an unsettling horror story.
A tale of friendship told through a grotesque lens, VIOLENCE VOYAGER follows best friends, Bobby (Aoi Yûki) and Akkun, who embark on an adventure. Discovering a mysterious theme park hidden in the woods, the boys enter only to be surrounded by other trapped children. Together, the children must band together to escape the horror.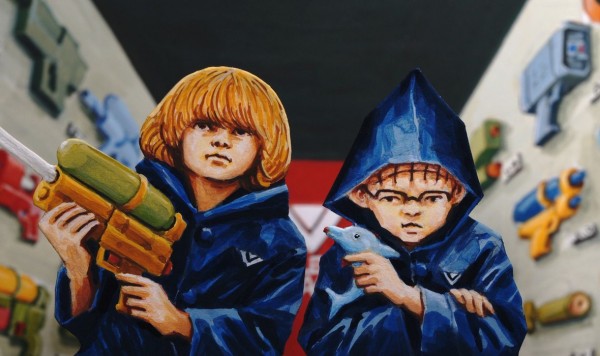 Enter the twisted world of VIOLENCE VOYAGER for a night of exhilarating, gruesome animation horror, from July 5 – 12th:
Laemmle Music Hall – Beverly Hills
9036 Wilshire Blvd., Beverly Hills, CA 90211
Tickets here
California Theatre – Berkeley
2113 Kittredge St., Berkeley, CA 94704
Tickets here
Tivoli Theatre – St. Louis
6350 Delmar Blvd., St. Louis, MO 63130
Tickets here
Ritz Bourse Theatre – Philadelphia
500 Ranstead St., Philadelphia, PA 19106
Tickets here
Please reserve your seat by contacting [email protected]
Starring original voices from two-time award winner, Naoki Tanaka (Minna no ie, All About Our House, Zebraman 2, Arisu no toge), Aoi Yûki (Your Name, Erased, Kamen Rider), Daisuke Ono (Jojo's Bizarre Adventures, Black Butler, Mr. Osomatsu), Saki Fujita (Attack on Titan series) and Shigeo Takahsashi (Nichijo – koi no koe, Deka Kurokawa Suzuski, Saraba itoshi no daitoryo), VIOLENCE VOYAGER stars voiceovers from legendary Debi Derryberry (Jimmy Neutron: Boy Genius) and Cedric Williams (Toradora).
Watch the trailer here: https://vimeo.com/329659360.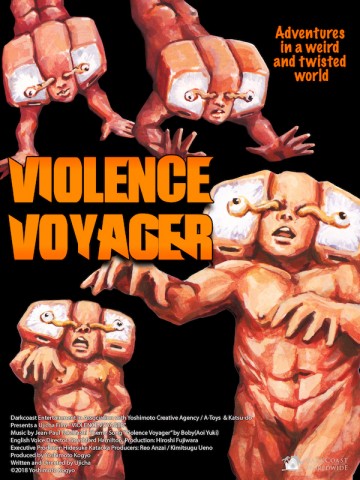 VIOLENCE VOYAGER (2018, 83 min.) Directed and written by: Ujicha. Producers: Reo Anzai, Kimitsugu Ueno. Animation, Editor and Cinematographer: Ujicha. Composer: Jean-Paul Takahashi. Japan, English dubs. Free Stone Productions Co., LTD., DarkCoast.
PRODUCTION COMPANY: Free Stone Productions Co., LTD.
DarkCoast is a division of TriCoast Entertainment:
DarkCoast – TriCoast's horror label. A new home for story-driven American films, TriCoast Entertainment is a full service media company that creates, produces, manages and distributes unique and unusual entertainment. Bringing together filmmakers, distributors, financiers, and technologists, TriCoast Entertainment embraces change by redefining the production and distribution model for indie filmmakers.
Founded by: Strathford Hamilton and Marcy Levitas Hamilton.
Media Contact
Company Name: TriCoast Entertainment
Contact Person: Jenna Wilen
Email: Send Email
Phone: 3104587707
Address:11124 Washington Blvd.
City: Culver City
State: California
Country: United States
Website: http://www.tricoastworldwide.com