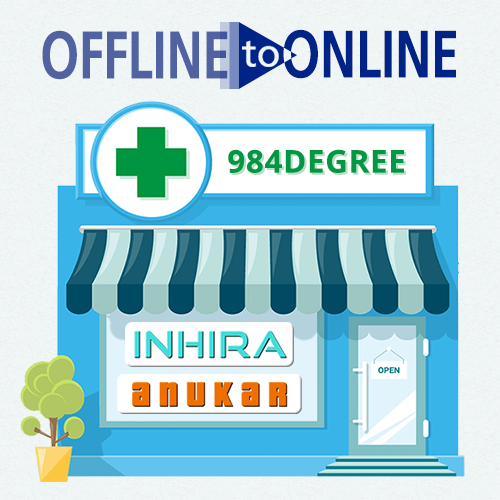 In the new economic environment, traditional offline pharmacies are challenged by new online pharmacies, fight or embrace, what a choice made by 98.4, Anukar, Inhira, or Sevana.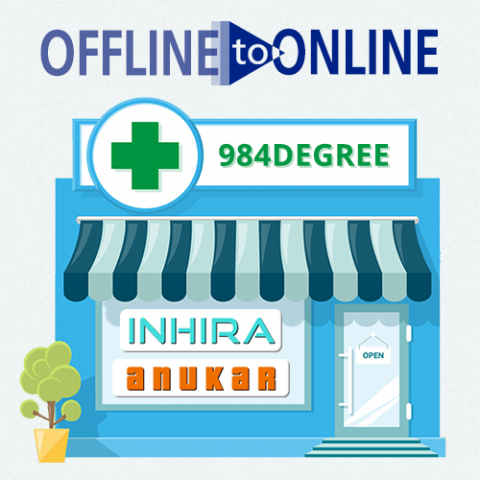 The Indian Pharmaceutical industry still remains to be one of the fastest growing markets in the World. The domestic Indian Pharmaceutical industry is estimated to be worth $12 billion, growing at about 8-9% annually. The organized pharmaceutical retail market size is estimated to be Rs.2600 crores. Domestic pharmaceutical size is 60,000 crores and is expected to quadruple by the year 2020.
Over the past couple of years, there have been several online pharmacy and e-pharmacy start-ups.However, there are key issues that most online pharmacies need to deal with. Around 8.50 lakh chemists across India have declared a strike to protest the government's move to regularise online sale of medicines. The Central government had draft rules on the sale of medicines by e-pharmacies with an aim to regulate online sale of medicines across India and provide patients access to genuine drugs from authentic online portals. Drug retailers say e-pharmacies challenge their businesses and would allow medicines that could be abused to be sold without verification. They also say the online pharmacies affects business of offline seller, there won't be rely on purity and quality of drug; also speak about electronic health record security issue. The madras government had banned online pharmacies in India months back, later the order was back to place.
For an offline retailer, it does not make sense to stock up on expensive drugs for rare diseases and genetic conditions because the likelihood of getting a customer from the locality is low. In most such cases, doctors prescribing these drugs give patients the manufacturer's direct number. Online players do not have this constraint because their market is almost the entire country
The digital trails in online are also providing greater confidence to stakeholders. Many of the bigger general insurance companies, like Max BUPA and Apollo Munich Health Insurance, have started partnering with e-pharmacies for their OPD (outpatient department) covers because of the e-billing and tracking facilities they offer.
The Internet is an irresistible trend, and it is better to cater to it than to fight against it. Some traditional pharmacies have gradually emerged from the offline to the online in recent years, or start both online and offline business. Because of having IT talents, this trend first appeared in major cities in India.
ANUKAR PHARMACY (anukarpharmacy.com) established in 1990s in Hyderabad, recently growing as online business is one of the wholesalers of all kinds of pharmaceutical goods infused with the aim to deal in best quality pharmaceutical products. They have made a continuous improvement in the supply of various genuine and trusted quality pharmaceutical products. To meet the ever increasing market requirements, they are presently constrained within India only.
Another respectable pharmacy was launched by global health line as a chain of retail chemist stores in the National Capital Region (NCR) under the brand name 98.4° (984degree.com). The brand was established in the year 2002 and over a period of time 984 degree has become the most preferred pharmacy in the areas they are based in. In a short span of time, 98.4° has built a reputation as a recognized and trustworthy chain of chemist stores with high service standards. They continue to work at being a quality service-oriented organization, with a reputation for competence and credibility both domestically and internationally. Currently, 98.4° stores are at dozens of locations with a total carpet area in excess of 10k square feet. Rely on this, their online business could offer extra Pick-up service, and extend their offline customer care program to online customers.
Unlike Anukar and 984 degree who mainly serve the end customers, Hira Enterprise (INHIRA.com) who has registered office at Hyderabad, is in engaged as the dealers and exporters of a comprehensive range of quality assured pharmaceutical medicines. They offer wide range of Anti-cancer, Hepatitis, Anti-HIV and other life saving medicines which are procured from reliable and reputed manufacturers. InHira goes further at internet road; they only keep the offshore warehouses, and move the whole business lines to online. Meanwhile, they extend the previous B2B (business to business) model to include B2C (business to end Customer) as well.The e-commerce trend is not only in the metropolis, but also in the second-tier regions, similar changes begin to occur. Sevana Medicals (sevanamed.com), Cochin based pharmaceuticals provides free or paid home delivery service. And rely on the internet tech, Sevana gained the ability to cover more regions, and even sell overseas.
When speaking about moving to online from offline is easy, but when coming into action it is difficult. Quote from the expert from GDMeds Pharmacy, a pioneer company turned from offline model to online model, and achieved boost from the new model. MR. VINCENT (expert from GDMEDS) says that there are lots of different barriers for online operation. First, about the technical issue, for this the traditional pharmacy might partner with IT Service Company to conquer it. Secondary, there is regulation issue. Laws for E-commerce are ill-defined and subject to varied interpretations.
Various laws such as the Information Technology Act, 2000; the Drug and Cosmetics Act, 1940; Drugs and Cosmetic Rules, 1945, Pharmacy Act, 1948; and the Indian Medical Act, 1956, govern the online pharmacies. Many of these, including the Drugs and Magic Remedies Act, under which drug advertisements are regulated, were written when use of computers and the internet was not as prevalent as it is now. Laws do exist for online pharmacy stores. As per the laws, medicines can be sold only by registered pharmacy that has a retail license and a registered pharmacist on payroll. A prescription for medicines ordered is must. Orders for medicines can be taken only from areas where the pharmacy retail license applies. All the medicines must be verified and certified by the registered pharmacist before delivery. Selling medicines to minors (under age 18), selling banned drugs, and selling medicines at a cost higher than the maximum retail price are prohibited.
Online is a trend. The players could be new or may be old. For traditional pharmacy and distributor, change to online is good move, but still lots of works or barriers. Some of them like chain pharmacy, they will invest to build their own business platform, some partner with the other online pharmacy, for example, GDMeds Pharmacy who move earlier in the trend integrate with their supply chain for distribution. Whatever how easy or hard of turning to the new e-commerce model, the traditional pharmacy will find out a way in the e-commerce Era to "FIGHT WITH THEM OR BECOME THEM".
Media Contact
Company Name: 12Rec Media Company
Contact Person: Media Relations
Email: Send Email
Phone: +1 513 800 0428
Country: United States
Website: www.12rec.com