Lynn Schockmel is a talented makeup artist and body painter based in Luxembourg. She is known for her stunning body painting art for which she has grabbed multiple awards. She discovered her interest in art at an early age and started exploring drawing, sculpting, painting, acrylics and other mediums. After coming across a face painting kit, she took it up as a hobby and soon gained expertise in it.
Her art style is majorly influenced by nature and contemporary pop culture with a skill to transform human bodies into amazing optical illusions. Some of the awards she has received for her work include first prize at Brussels International Fantastic Film Festival 2012, Face and Body painting festival 2015 in Gibraltar and Estetika in Brussels, 2014.
She has worked for multiple brands to do their promotion via art, private customers for personalized artworks, belly paintings for pregnant women, face painting for Halloween, fashion shoots, fashion shows, movies and more. In this exclusive interview, she talks about her journey so far as a body painting artist.
Interviewer: Give us a brief about your background?
Lynn Schockmel:
I always loved painting. I grabbed art supplies even before beginning talking. I started face painting at the age of 14 and immediately fell in love by creating living art on people. 2009 I did my first body painting during a workshop at the World Bodypainting Festival. When I came back home, I immediately asked friends to paint them. From that date on I rarely painted on any "normal" 2d canvas anymore. I became addicted to this beautiful art and quickly learned new techniques to improve my skills. Later on I joined several competitions and won 3 awards.
Interviewer: What inspired you to become a body painting artist?
Lynn Schockmel:
First of all I am very social. When I painted flat canvas in the past I often felt alone and isolated. I now love to paint a living canvas that actually talks to me and sometimes keeps me entertained. I also love body painting because the canvas is 3D with so much more possibilities. The art work looks different from each angle and the model reinterpreted my art with his/her movements, poses and sometimes – if they are performers – with dance, fire play or gymnastics or other performances. Body Painting is a team work, it doesn't exist without at least 2 people except if the artist paints her/himself, but more often 3 people including the photographer to immortalize the art work before it washes off in the shower.
Interviewer: Tell us something about your work so far?
Lynn Schockmel:
I am body painting and makeup artist and work together with my husband and photographer Marco Mazzini in our studio in Luxembourg. We offer several themed/creative photo shoots incl. makeup, costumes or full/partial body paints like belly paint and face paint for private clients or brands. I also get asked to do live body paints at events, makeup for Halloween, special effects for movies and video clips or fluorescent black light designs on guests at bars for Neon parties. Sometimes they ask me to do a black light body painting on a model. I also sell my art work in our shop.
Interviewer: How do you help businesses promote themselves via body art?
Lynn Schockmel:
Body Painting is a beautiful form of art which can be a great marketing tool for a business or brand. Models get painted live in front of the public during an event or exhibition. Visitors will come back frequently to see the progress, that's why a booth with a body painting demo is always surrounded by lots of people. If a brand decides to include their logo on the models' body it will be photographed by visitors and shared on social media. That's a free promotion that gets viral. Some models may also show a dance performance at your event or in any bar or pub to attract visitors. Not only live body painting performances are a great marketing tool, but also photo shoots. You can add interesting and eye-catchy photographs to your promotional material like flyers etc.
Interviewer: What are the projects you are currently working on?
Lynn Schockmel:
Currently I am working on the concept of a multiple bodypainting illusion for a well-known organization which remains secret for now. I am also working on several personal projects with my husband Marco Mazzini (photographer). I want to create a collection of fine art photographs and art installations to exhibit in museums and to include in my next book. Themes will be focused on common stereotypes, different body shapes, self-confidence and acceptance of differences in our society.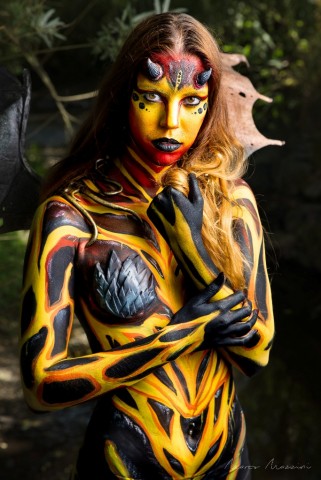 Photos by Marco Mazzini www.marco-mazzini.com
Media Contact
Company Name: Lynn Schockmel Body Art
Contact Person: Lynn Schockmel
Email: Send Email
Country: Luxemburg
Website: www.body-art.lu