Technology that finds use in everyday life is constantly evolving in order to accommodate new trends and lifestyle changes. Sunglasses might seem to be a trivial object but with the thoughtful implementation of technology, sunglasses today are much more than just accessories. Harrier sunglasses are a product meant for all sorts of outdoor activities and movements such as biking, hiking, jogging, and driving. They follow a unique and revolutionary concept of automatic electrochromic adjustment that paves the way for a futuristic league of sunglasses. A funding campaign for the product has been launched on Kickstarter.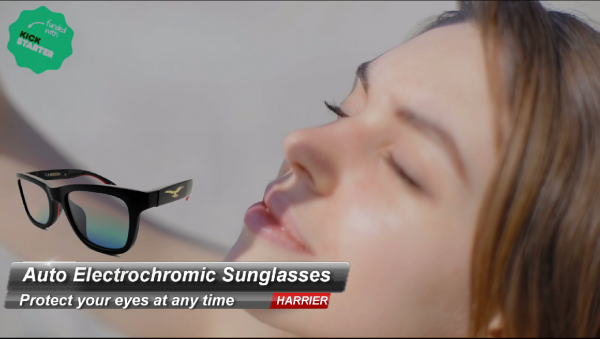 The electrochromic brightness feature of the sunglasses allows them to automatically adjust the lens according to the brightness of the surroundings. This allows for users to have a better driving experience as the product maintains clear visibility. The change in the lens takes place in a tenth of a second, making the transition from bright sunlight to dark tunnels, for instance, easier and safer. Harrier sunglasses further promise their customers with safety and security as they use Ballistic US ANSI Z87.1 standards for eye protection. Also, the polarized lens used in the product offers up to 100% protection against harmful UV rays. In addition to the superior quality of the sunglasses and the all-around protection they provide by reducing glare, the sunglasses are also a great style statement that will leave a great long lasting impression. These stylish glasses are effortless to carry as they come with a waterproof case.
Video Link: http://www.youtube.com/embed/e9saL9s2Szs
Harrier sunglasses further incorporate technology into their unique product by creating a built-in touch control along with the automatic feature to also permit manual shifting between the various modes of the glasses such as indoor driving mode and outdoor sports mode. The product comes with a chargeable battery that can be used for up to 60 hours when charged for just 1.5 hours.
The exceptionally long battery life and unique brightness sensitive features, along with the fact that the sunglasses are waterproof, makes the product an ideal choice for not just driving but also for many outdoor activities such as biking, hiking, and photography. The glasses can also be used for protection after medical procedures such as Myopia-correcting operations and Cataract operations. The glasses can also be used to overcome the impact of Mydriasis.
To support Harrier Electrochromic sunglasses and to find out more about the perks available for supporters visit their Kickstarter campaign page.
Media Contact
Company Name: Sonic Wonder Company
Contact Person: MINGYING COMBS
Email: Send Email
Country: United States
Website: www.harrierglasses.com